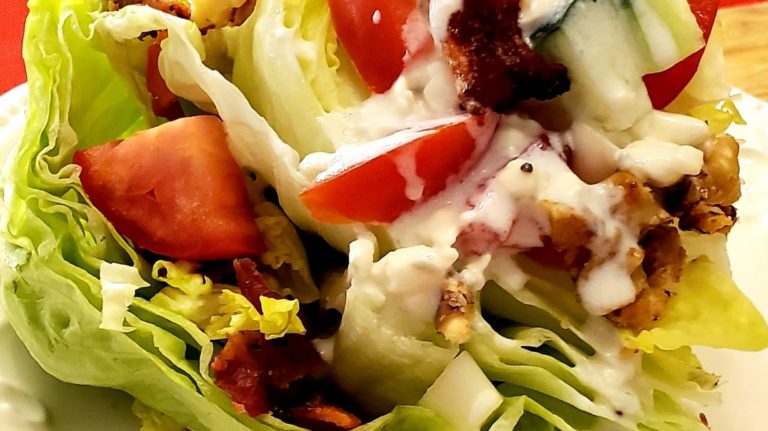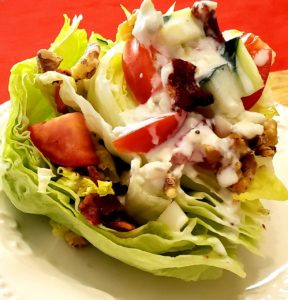 NOTE:  The Wedge Salad became famous a few years back and is still seen in some restaurants. It looks so elegant standing upright along with many great condiments featured with a wonderful Homemade Blue Cheese Dressing. One head of lettuce can be cut into 4 or 6 wedges, depending on the head size of the lettuce.
Ingredients:
1 large head lettuce, cut into 4 to 6 wedges, as desired
1 large garden tomato, or 3 Roma tomatoes, diced small
1/2 cup green onions with tops included, diced small
1 small cucumber, peeled and diced small
1 cup cooked crisp bacon, crumbled
1 cup toasted candied walnut pieces
2 tablespoons sugar
Instructions:
Wash lettuce and remove any wilted outside leaves. On cutting board, cut the head of lettuce in half, and then half again for 4 wedges, or in thirds for 6 wedges.
Set the wedges in desired bowls, and begin to distribute the tomatoes, green onions, and cucumbers over the wedges, tucking the vegetables into the crevices of the lettuce. Sprinkle the bacon over the vegetables.
In a dry skillet, place the walnut pieces and sugar. Over medium heat, constantly stir the walnuts and sugar until the sugar disappears and the walnuts become toasted and aromatic.  Remove from pan and distribute over the salad wedges.  Place 2 to 3 tablespoons Blue Cheese Dressing over each wedge.  Makes 4 to 6 Salad Wedges.