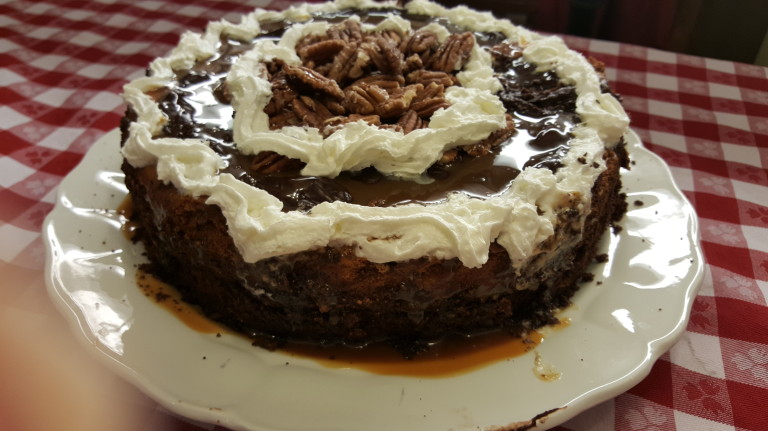 NOTE:  This cheesecake is not only beautiful, delicious, and decadent, it is down right mouth-watering good!
Ingredients:
4 cups chocolate graham cracker crumbs
1/3 cup brown sugar
¾ cup butter, melted
4 (8-ounce) packages cream cheese
1¼ cups sugar
3 tablespoons lime juice
1 tablespoon vanilla extract
4 eggs
1½ cups semi-sweet chocolate morsels
3 tablespoons evaporated milk
Chocolate Topping
1 (6-ounce) package semi-sweet
chocolate morsels
1/3 to ½ cup sweetened condensed milk
½ cup Hershey's Caramel Topping
 
 
Toasted Candied Pecans
1 cup whole pecans
1 tablespoon sugar
whipped cream
Instructions:
1. Preheat oven to 350 degrees. Place graham crackers, brown sugar, and butter in a food processor or blender until well blended. With the bottom of a cup or juice jar, pat the crumb mixture up the sides of a buttered 10-inch springform pan. Chill in the freezer while making the filling.   2. In a food processor or mixer, beat the cream cheese, sugar, lime juice, and vanilla until smooth. Add the eggs one at a time, mixing after each addition. Remove 2 cups cream cheese batter and place in medium bowl; set aside.   3. Mix chocolate morsels and evaporated milk in small heavy pot. Turn heat to low and mix chocolate with milk stirring constantly until melted and smooth. Add the chocolate mixture to the 2 cups cream cheese batter and stir together until blended.   4. Remove crust from freezer. Alternately spoon batters into crust beginning and ending with plain batter. Swirl gently to make a marble effect. Bake for 1 hour, or until cake is set. Cool in pan on wire rack for 10 minutes; run knife around edge and carefully remove outer pan. Let cheesecake cool completely before garnishing top.   5. When cake is set and cooled, place a cookie sheet or round platter over top of cheesecake. Flip cheesecake over and remove bottom pan. Flip cake back over onto large round platter.   6. Prepare topping by placing chocolate morsels and condensed milk in small heavy pot. Over low heat, mix chocolate with milk, stirring constantly until melted and smooth. Let cool; spread chocolate over top of cheesecake to the edge. Place caramel topping in microwave for a few seconds if too stiff. Drizzle caramel topping in lines back and forth over chocolate, letting some drip off the sides of cake.   7. Place pecans in dry skillet and add sugar. Over medium heat, stir often until pecans become aromatic and toasted, about 2 minutes. Place Toasted Candied Pecans in center circle of cheesecake. Keep cheesecake refrigerated until ready to serve, at least 3 to 4 hours. Flute
edge of cheesecake with whipped cream and serve. Serves 16.