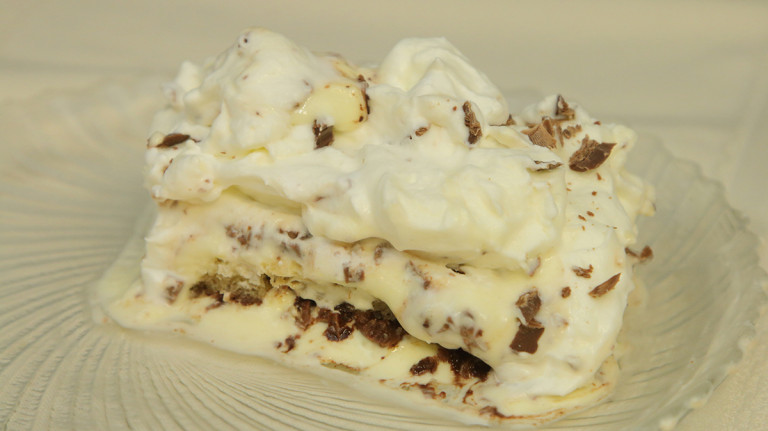 NOTE:  Tiramisu is a popular Italian dessert and means "pic-me-up."  You will love the mascarpone custard and chopped chocolate that laces this wonderful treat.  
Ingredients:
1 1/2 cups strong cooled espresso coffee, divided
1/4 cup sugar
40 Italian ladyfinger cookies
8 egg yolks
¾ cup sugar
1 cup heavy cream
¼ cup sugar
2 teaspoons brandy extract
2 (8-ounce) cartons mascarpone cheese
2 small chocolate candy bars, chopped or grated
Cocoa
1 cup heavy cream
¼ cup sugar
1 teaspoon brandy extract
Chocolate curls
Instructions:
 Make the espresso coffee and add the sugar.  Let the sugar dissolve in the coffee and let stand until cooled.  Using a 12 by 8-inch baking dish, line the bottom with 20 ladyfingers on the first layer.  Gently spoon half the coffee over the ladyfingers until soaked.
 Beat the egg yolks in a large glass bowl for 8 to 10 minutes, adding the ¾ cup sugar a little at a time.   The eggs will form a thick, smooth custard; set aside.
Using an electric mixer, beat the cream with the sugar until stiff peaks form.  Add the brandy extract and the two cartons of mascarpone cheese.   Continue to beat the cheese and whipped cream together until thick.  With mixer on medium speed, fold the egg custard into the cream cheese mixture until well combined and thick.   Pour one-half of the filling over the first soaked ladyfingers.  Sprinkle one of the chopped candy bars over the top, and using a sifter, dust the chopped candy with unsweetened cocoa.
Dip the remaining 20 ladyfingers, one at a time into the remainder coffee.  Very gently, to avoid breaking, place the soaked ladyfingers over the dusted cocoa.  Repeat layering with the custard, chopped candy bar, and dusted cocoa over the second layer of ladyfingers.
This step is optional if you desire a top layer of whipped cream.   Beat the remaining cream and sugar until stiff peaks form.  Fold in the brandy extract.  Spread over the Tiramisu and garnish the top with the chocolate curls.  Cover with plastic wrap and refrigerate 4 to 6 hours or overnight until all the flavors have settled and the cake is firm.  The tiramisu can also be frozen and then cut for more solid servings.  Serves 12.