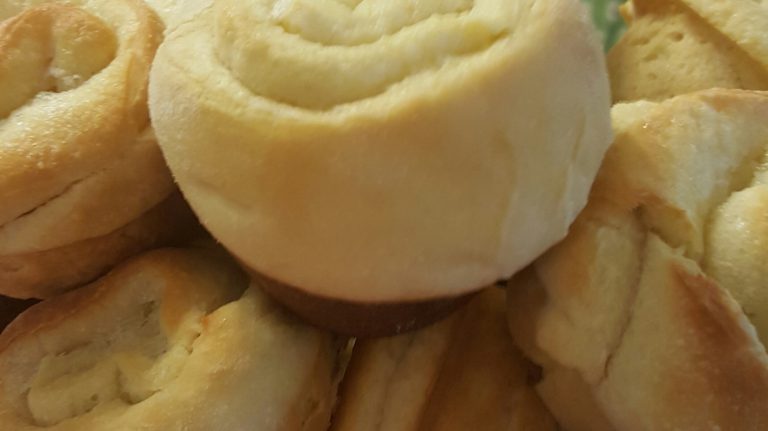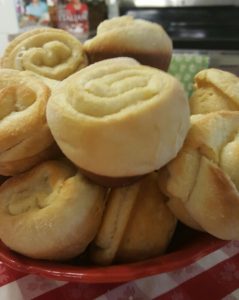 NOTE:  These are the famous yeast rolls that were served from our Country Kitchen during the Old Thresher's Country Fair held yearly in Elsberry, MO.    They were made right on the spot from morning until the last meal was served.  People would stand in line for a hot roll, and it was said that they walked around the Fair Grounds holding a hot roll rather than a funnel cake or cotton candy.  These rolls literally melt in your mouth.  You will cherish this recipe.
Ingredients:
2 tablespoons yeast
¼ cup warm water
3 eggs, beaten
1 cup lukewarm water
½ cup butter, melted
5 ½ cups all-purpose flour, divided
2 teaspoons sale
½ cup sugar
½ cup butter, melted, divided
½ cup sugar
Melted butter
Sugar
Instructions:
Preheat oven to 375-degrees.  Dissolve yeast in ¼ cup warm water using fork to mix thoroughly.  Set timer and let stand 10 minutes.  Yeast will foam up high and look pasty.
In large glass bowl, add beaten eggs, 1 cup lukewarm water, ½ cup melted butter and the foamy yeast; stir together.
Add 3 cups flour, salt, and sugar to wet ingredients; dough will be sticky. Add additional 2 cups flour and turn out onto floured surface.  If dough is still too sticky, add the remainder flour and knead together gently.  Do not overwork dough.  Coat large bowl with olive oil or cooking spray.  With floured hands, place dough in bowl.  Dough will be very soft.  Cover with towel and place on top of stove in a warm place.  Let rise to double in size, about 1 to 1 ½ hours.
Place dough on floured surface; cut dough ball in half. Roll dough with rolling pin, dusting lightly with flour as needed, to a 12 by 15-inch rectangle.  With pastry brush, brush dough with ¼ cup melted butter.  Sprinkle ¼ cup sugar over butter, adding more sugar if desired.  Roll rectangle (wide end) into jelly-roll fashion.  Using a serrated knife, cut slices 1 to 1 ¼-inch thick.  You should get 12 slices from each roll. Place cut-side up in greased muffin pans.  Continue to process the other half of dough as above.  Let rolls rise in a warm place until double in size, at least another hour.
Bake in oven 10 to 12 minutes or until golden on top. Remove from oven and brush with melted butter; sprinkle with sugar.  Serve warm for best taste.  Yield: 2 dozen rolls.