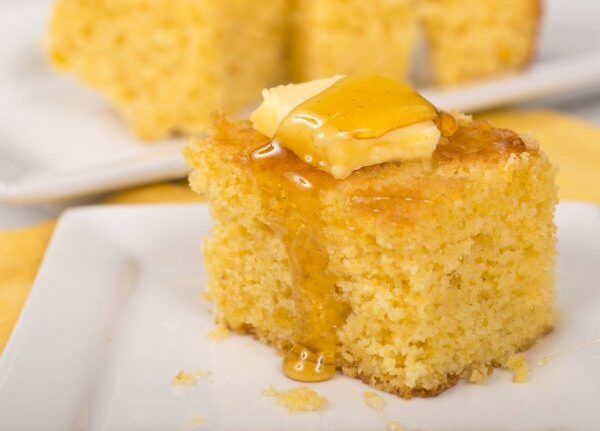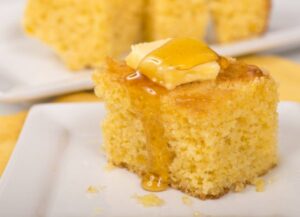 NOTE: This sweet cornbread is indescribably delicious. It has a wonderful moist texture with a satin crunchy feel. The day I made this, I did not have half-and-half, so I used heavy whipping cream. It was so moist, with a cake-like texture. Serve warm with a pat of butter and honey.
Ingredients:
Butter
Flour
1 ½ cups favorite cornmeal
1 ½ cups granulated sugar
12 tablespoons real butter
3 beaten eggs
2 ¼ cups all-purpose flour
1 tablespoon baking powder
½ teaspoon salt
1 cup heavy cream or half-and-half
Butter
Honey
Instructions:
Preheat oven to 350-degrees. Butter and flour a 13 by 9-inch baking pan and set aside. In large bowl combine the cornmeal and sugar. Melt butter in small pan and set aside. Beat the eggs, and together with melted butter, pour over cornmeal mixture. Mix well, but do not beat.
In another bowl, combine the flour, baking powder and salt. Alternately add the flour and cream, or half-and-half, to cornmeal mixture, ending with flour and mixing only until moistened. Spoon cornmeal mixture into baking pan and let pan sit for 5 minutes.
Bake in oven for 25 to 30 minutes, or until cornbread is set and inserted toothpick comes out dry. Remove pan from oven and serve warm with butter and honey. Makes 12 Servings.