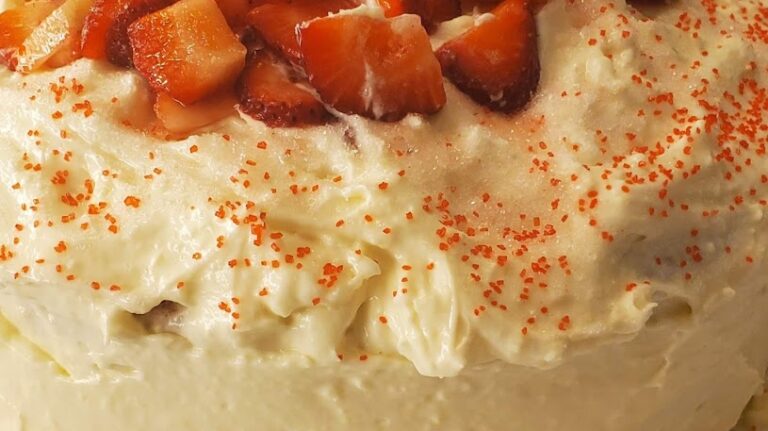 NOTE:  This cake is not only beautiful, but delicious in every way.  It is filled with fresh strawberries, and the texture is tender and rich.  The best Strawberry Cake ever!
Ingredients:
Butter
Flour
1 box Duncan Hines Classic White cake mix.
1 (3-ounce) package strawberry gelatin
1 cup mashed fresh strawberries with juice.
  (11/2 cup whole berries)
1 cup olive oil
½ cup half and half
4 large eggs
1 cup grated coconut (optional)
Cream Cheese Filling
2 (8-ounce) packages cream cheese, room temperature
8 tablespoons (1 stick butter), room temperature
4 cups powdered sugar.
¾ cup fresh strawberries, thinly chopped and drained
½ cup coconut (optional)
Outer Cake Frosting
1 (8-ounce) package cream cheese, room temperature
1 cup powdered sugar
1 cup heavy cream
Fresh Strawberries
Pink Sugar Sprinkles
Instructions:
Preheat oven to 350-degrees. Butter and flour three 9-inch cake pans.  Shake out the excess flour and set the pans aside.
In large mixing bowl, place the cake mix, and strawberry gelatin. Stir together until well blended.  Add the mashed strawberries and juice; add the oil, half and half, and eggs.  Blend on low speed for 1 minute, or by hand until well blended, scraping down the sides as needed.   The strawberries should be well blended into the batter.  Fold in the grated coconut.
Divide the batter among the prepared pans and place them in the oven. Bake the cakes until they are light brown, about 28 to 30 minutes.  Remove pans from oven and place them on wire racks to cool for 10 minutes.  Run a butter knife around the edges and invert each cake onto a rack.  Allow the cakes to cool completely, about 30 minutes.
Make the Cream Cheese Filling by placing the cream cheese in a large mixing bowl. Add the butter and 2 cups powdered sugar.  Beat with an electric, or hand mixer, for about 30 seconds.  Add the remainder powdered sugar and beat until smooth and silky.  Fold in the strawberries until well blended into the cream cheese mixture.  Set aside.