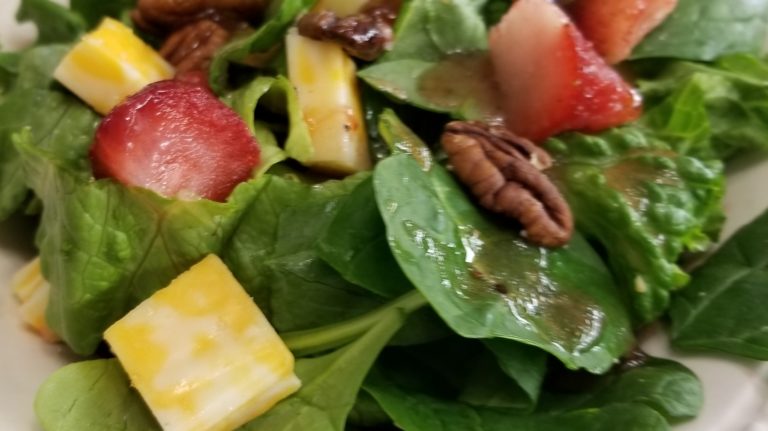 NOTE:   This salad is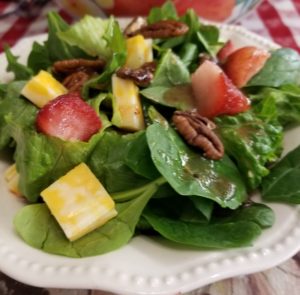 not only beautiful, but crunchy with candied pecans and fresh strawberries.  The Strawberry Vinaigrette sends this salad over the top.
Ingredients:
Sugar-Coated Pecans
1 cup whole pecans
2 tablespoons sugar
3 cups Romaine lettuce, chopped
3 cups Red curly-leaf lettuce, chopped
2 cups fresh spinach leaves, left whole
½ cup green onions, tops included, chopped small
2 cups fresh strawberries, sliced
1 (16-ounce) package variegated cheese cubes
Strawberry Vinaigrette Dressing
1/3 cup olive oil
6 tablespoons red wine vinegar
2/3 cup strawberry preserves
1 teaspoon coarse sea salt
¼ teaspoon ground black pepper
Instructions:
Place pecans in dry skillet with sugar.  Toast pecans until they become sugar-coated, about 3 minutes.  Remove to wax paper to cool.
Place chopped lettuce and spinach leaves in a large glass bowl. Add green onions, strawberries, and Sugar-Coated Pecans; toss together.  Scatter cheese cubes over top and toss throughout salad.
Make Strawberry Vinaigrette Dressing by combining the olive oil, vinegar, strawberry preserves, salt, and pepper into a jar with lid. Shake dressing well.  Pour dressing onto salad, letting it seep down through the leaves.  Serve with crackers of your choice.  Delicious!  Serves 8 to 10.   NOTE:  Place strawberry preserves in microwave for one minute to soften.