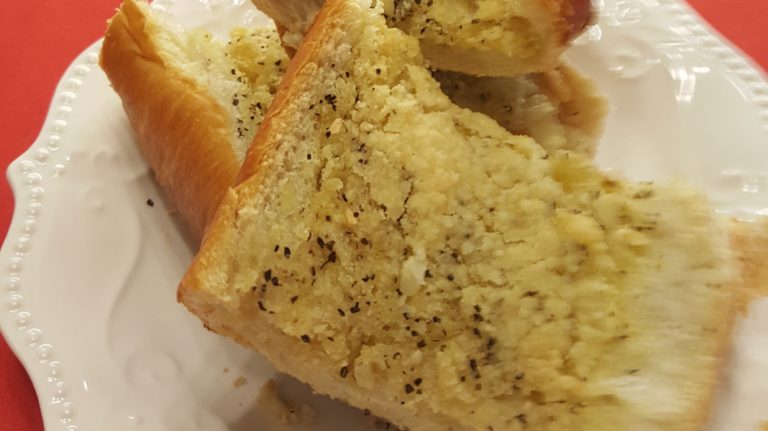 NOTE:  Bruschetta bread is always a treat with most any Italian meal.  You can build on this bread and make it as elaborate as you desire.  In the summer, add fresh tomato slices over the cheese covered bread, then top with shredded mozzarella. Other additives can be marinara sauce, pepperoni, black olives or even Italian sausage. 
Ingredients:
1 loaf Italian or French Bread
½ cup extra virgin olive oil, divided
3 cloves minced fresh garlic, divided
Kosher salt
Coarse black pepper
1/2 cup grated Parmesan cheese, divided
1/2 cup Sargento shredded mozzarella, divided and optional
Fresh basil leaves
Instructions:
Preheat oven to 400-degrees. Using a serrated-edge knife, slice the Italian bread in half, down the middle.
Lay the bread on counter, and divide the olive oil between the halves, rubbing the olive oil deep into the bread. Divide the minced garlic between the halves, rubbing the garlic up and down the bread; embedding the garlic.
Sprinkle kosher salt and coarse black pepper over the bread. Next, divide the Parmesan cheese between the two halves of bread.
Lay the loaves right on the grate in the oven; bake for no more than 6 minutes. Remove loaves and divide the shredded mozzarella over the Parmesan cheese.  Return the loaves to the oven for another 30 seconds, or until the mozzarella is somewhat melted.  Cut halves in half, and then half again to yield 8 servings.  Serve warm.