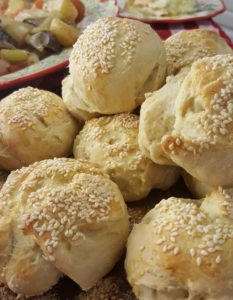 NOTE:   These rolls are crunchy and delicious and are perfect to accompany any soup or meat entree.  Serve them hot with a pat of butter and watch them disappear. 
Ingredients:
1 (14-inch) pizza stone
2 tablespoons cornmeal
 
1 ¼ cup warm water
3 teaspoons yeast
4 ½ cups all-purpose flour
2 teaspoons salt
1 egg, beaten
2 tablespoons butter, melted
2 teaspoons olive oil
1 egg white
1 tablespoon water
Sesame seeds
Instructions:
Preheat oven to 400-degrees. Put yeast in warm water and stir to dissolve; let the yeast foam up for 8 minutes.  Place the flour in a large bowl; add the salt and mix well.  Make a "well" in the center of the flour and add the egg and melted butter.  Add the yeast water a little at a time with the flour.  Work the liquid into the flour until all incorporated.  Bring the dough together into a ball and knead 8 to 10 minutes, until dough feels elastic.  If the dough is sticky, add a little more flour.  Pour the olive oil over the dough and turn to coat.  Let rise in a warm place for 1 ½ to 2 hours, or until doubled in size.
Punch the dough down and let it rest for 15 minutes. Divide the dough into 12 pieces and shape into rolls.  Sprinkle the stone with cornmeal and place the rolls on the stone.  Cover rolls and let rise another 1 hour.
Beat the egg white with water until foamy. Brush the rolls with the egg white and sprinkle with sesame seeds.    Bake in hot oven 20 minutes or until golden.  Makes 12 large rolls.