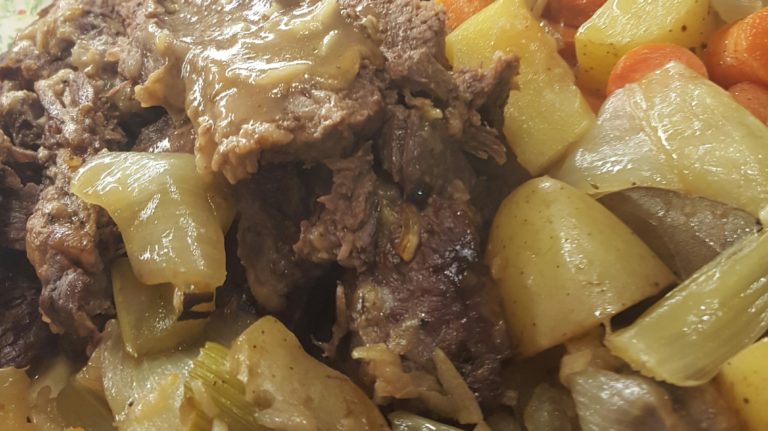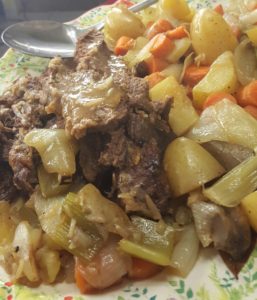 NOTE:  This traditional Sunday dinner favorite has been loved and cherished for as long as I can remember.  It is full of flavor with lots of thick gravy to ladle over the tender vegetables.  Everyone will love this dish, especially served with a good hot roll.
Ingredients:
1 (5-pound) chuck roast
3 cloves garlic
Coarse sea salt
Coarse ground black pepper
½ teaspoon thyme
1/3 cup flour
¼ cup mild olive oil
1 small onion, chopped fine
3 cups Kitchen Basics beef stock, divided
2 bay leaves
4 to 5 golden Yokan Potatoes, small quartered
4 to 5 large carrots, cut into thirds
3 inner celery stalks, cut into thirds
1 (8-ounce) package sliced button mushrooms, optional
1 packet Lipton's Beefy Onion Soup Mix
¼ cup flour
1 cup water
Salt and Pepper to taste
Instructions:
Pre-heat oven to 350-degrees. Remove chuck roast from wrapper; rinse under cool water and pat dry.  Place roast on cutting board and make six deep cuts into the roast in various places.
Remove skin from garlic and cut each clove in half down the middle. Place the six pieces' garlic down into each slit made into the roast.  Salt and pepper the roast on both sides liberally, and scatter the thyme over the roast.  Sprinkle the flour over the roast on both sides and press the flour into the meat.
In a large electric skillet, pour the olive oil and let get very warm. Add the chopped onion, and let the onion cook about 2 minutes.  Move the onion to the side and place the roast into the skillet, adding more olive oil if needed.  Let the roast sear on both sides until the flour is dark brown and crusted, about 5 minutes on each side.  Remove the roast and onion to a large Dutch Oven.  Add 2 cups of the beef stock and bay leaves.  Cover the roast with lid and place into oven.  Let the roast cook for about 3 hours.
Remove roast from oven and remove lid. Add the vegetables, the remaining 1 cup beef stock, and the Lipton's Beefy Onion Soup mix.  Return to oven and cook the roast for another hour, or until the vegetables and roast are fork tender.  Remove the roast and vegetables to a large platter.  Keep Dutch Oven on stove and bring the juice to a gentle boil.  Add the flour into 1 cup cool water and mix together well.  Add the flour mixture to the juice, stirring constantly until the gravy becomes thick and smooth.
Slice the roast and serve with the warm vegetables and gravy. Serves 10 to 12.