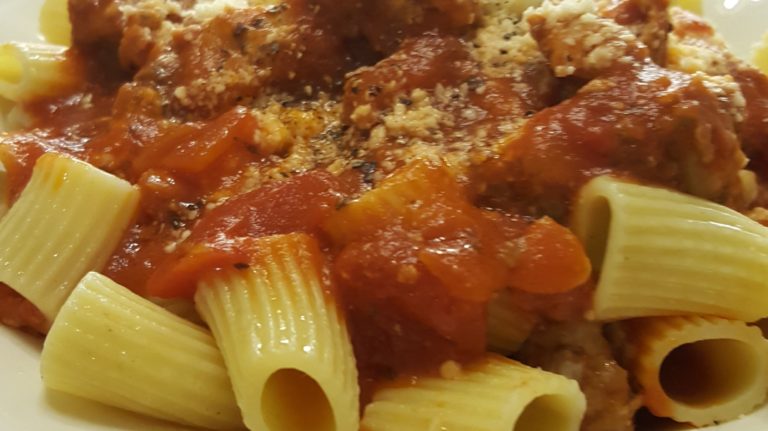 NOTE:  This dish is wonderful, and so easy to make.  You will love the tenderness of the meat made with ground turkey, along with the savory sauce served over rigatoni.  This is a must-have recipe.
Ingredients:
1 pound rigatoni
1 tablespoon salt
1 pound ground chuck or sirloin, or ground turkey
2 cloves garlic, chopped
1/4 cup plain bread crumbs
1/4 cup Parmesan cheese
2 tablespoons fresh curly parsley, chopped
2 eggs
½ teaspoon fennel seed
1/2 teaspoon salt
¼ teaspoon ground black pepper
2 to 3 links Italian Sausage
Olive oil
Marinara Sauce
¼ cup extra virgin olive oil
1 small onion, chopped small
2 cloves garlic, chopped small
1 (15-ounce) can diced tomatoes
2 teaspoons sugar
½ teaspoon dried basil leaves
¼ teaspoon crushed red pepper flakes,
½ teaspoon salt
¼ teaspoon ground black pepper
1 chicken bouillon cube
½ cup Kitchen Basics chicken stock
1 (15-ounce) can tomato sauce
1 (8-ounce) can tomato paste
½ cup water
Instructions:
In large bowl, combine ground chuck, garlic, bread crumbs, cheese, parsley, eggs, fennel seed, and salt and pepper. With clean hands, mix the meat and seasonings well.  Place meat in large skillet with enough olive oil to cover bottom of pan.    Fry meat on both sides for 3 to 4 minutes, leaving meat partially uncooked.  Crumble meat in pan as it cooks.   Remove back to bowl and set aside.
Partially cook up the sausage in the same frypan and add to the meatballs.
Prepare the marinara sauce by combining olive oil, onion, and garlic in a 6-quart sauce pan and sauté onions and garlic about 2 to 3 minutes or until golden in color. Add tomatoes, sugar, basil leaves, red pepper flakes, salt, pepper, and bouillon cube; let simmer 5 minutes.   Add the chicken stock and bring back to simmer, about 5 more minutes.
Add the tomato sauce, and paste and stir well to break up the paste. Add the water, and a little more if needed for a smooth consistency.   Let the sauce simmer on low heat about 6 to 8 minutes.  Add the partially cooked meat, and let simmer for another 10 minutes.  NOTE:   If sauce seems to be too thick for all the meat, add another small can of tomato sauce (15-ounce) and another 1/2 cup water. Stir to be completey blended.  Serve over favorite pasta, or in pasta dishes.  Makes 6 cups sauce.
Boil the rigatoni in salted water until al dente, or package directions. Remove from heat and drain.  Serve the meat sauce over the rigatoni.  Serves 6 to 8.