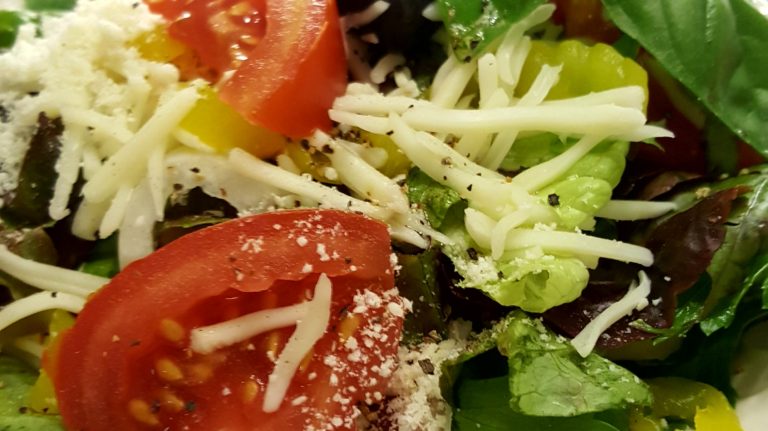 NOTE:  This salad is a little variation from my regular Italian salad.  I have added the shredded mozzarella and basil sprigs.  A great summer salad that enhances any entree.
Ingredients:
1 bunch green leaf lettuce
1 large bunch red leaf lettuce
½ cup olives, black, green or Kalamata, pitted
½ cup tender celery hearts, chopped
1 small purple or white onion, sliced into rings
Pepperoncini rings
1 to 2 large garden tomatoes, cut into wedges
Italian Vinaigrette
¾ cup extra virgin olive oil
¼ cup red wine vinegar
1 tablespoon balsamic vinegar
1 teaspoon coarse sea salt
½ teaspoon coarse ground black pepper
2 cups shredded mozzarella cheese
Basil sprigs [caption id="attachment_1206" align="alignleft" width="230"] A great summer Italian salad with fresh tomatoes and basil sprigs[/caption]
Instructions:
Rinse lettuce well and pat dry.   Chop the lettuce coarsely and place into a large salad bowl.  Add the olives, celery, onion rings, pepperoncini rings, and tomatoes.    Toss the salad well.
Place the salad into 6 bowls and add the Italian vinaigrette.
Make the dressing by combining the olive oil, vinegars, and salt and pepper into a jar with a lid. Shake the ingredients well to combine.  Pour the dressing over the salads.   Top each salad with the shredded mozzarella.  Makes 6 to 8 salads.