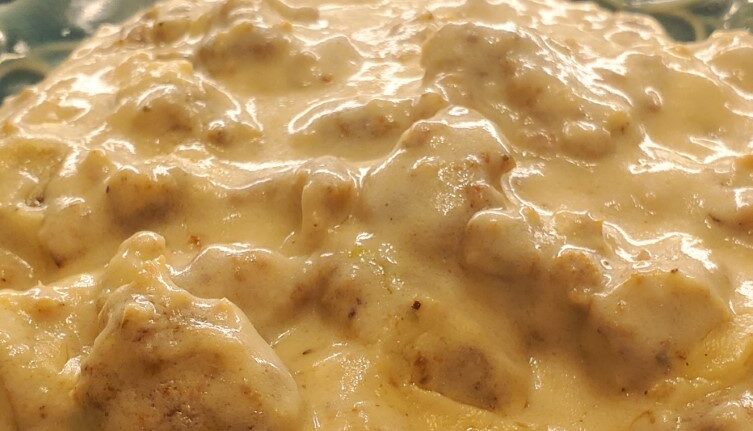 NOTE:  This gravy is what the doctor ordered to go over Rosalie's Buttermilk Biscuits.  It is smooth, rich, and delicious.  You will love this recipe!
Ingredients:
1 roll pork sausage of choice
4 tablespoons bacon drippings
1/3 cup flour
½ teaspoon salt
¼ teaspoon ground black pepper
4 cups whole milk
Instructions:
In large heavy skillet, add bacon drippings and pork sausage. Cook the sausage until broken up and meat is no longer pink.
Stir in the flour, salt, and pepper all at once. With metal spatula, swirl the flour into the sausage and drippings.  Slowly add milk a little at a time, so the flour can take in the milk. Continue swirling the milk into the flour and you will begin to see the gravy thickening. Continue until you reach the desired thickness, 3 ½ to 4 cups milk.
Gently simmer for 2 minutes longer. The gravy will become smooth and thick.  Use with Rosalie's Buttermilk Biscuits.  Makes 6 cups gravy.