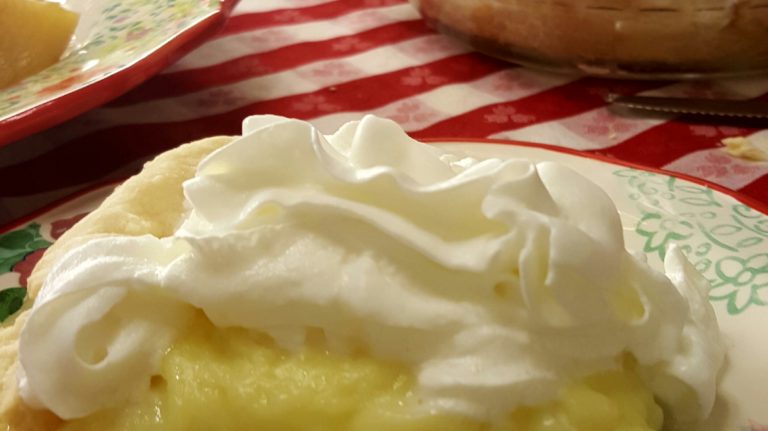 NOTE:  This classic dessert will always have a place in everyone's heart as one of the best custard pies.  The filling is thick and smooth with just the right amount of coconut added, all placed over a flaky crust.  Just a little bit of heaven. 
Ingredients:
1 package Betty Crocker Pie Crust mix
1/3 cup cold water
¾ cup sugar
1/4 cup plus 2 teaspoons cornstarch
1/8 teaspoon salt
4 egg yolks
3 cups whole milk
1 cup flaked sweet coconut
1 teaspoon vanilla
3 tablespoons butter
1 cup whipping cream
1/3 cup powdered sugar
½ cup toasted coconut
Instructions:
Preheat oven to 400-degrees. Prepare pie crust according to package directions.  Roll dough to fit a 9-inch pie pan.  Prick bottom of crust with fork all over.  Flute edges and bake at 400-degrees for 8 to 10 minutes, until golden in color; set aside to cool.
Combine sugar, cornstarch, and salt in a heavy 3-quart saucepan; stir well.
Combine egg yolks and milk and gradually stir into sugar mixture. Cook over medium heat, stirring constantly with a slotted spatula until mixture thickens and boils.  Reduce heat and boil 1 more minute, stirring constantly to avoid sticking.  Remove from heat.
Add coconut, vanilla, and butter; stir into pudding until butter melts. Immediately pour custard into pastry shell.  Cover with wax paper and let cool 30 minutes.  Chill until firm.
Beat whipping cream until foamy, gradually add powdered sugar. Beat cream until firm peaks form. Spread whipped cream over filing.  Toast coconut in dry hot skillet on stove, stirring often until coconut becomes golden.  Let coconut cool and garnish top of pie.  Serves 8.