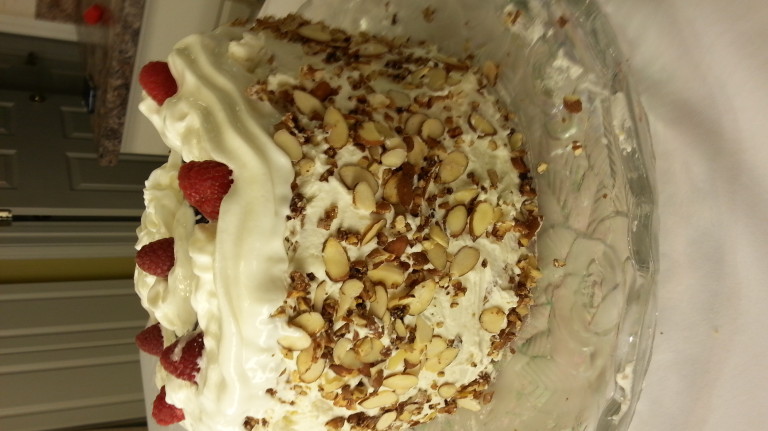 A beautiful cake that taste great, just like a cream filled Cannoli.
NOTE:  This cake is a replica of the classic cream-filled cannoli pastry all wrapped up into a cake.  It is light, smooth, and delicious!
Ingredients:
2 (9-inch round) layers, Pillsbury Moist Supreme Yellow Cake Mix
1 (9-inch round) layer, Pillsbury Moist Supreme Devil's Food Cake Mix
1 recipe Ricotta/Cream Filling
1 recipe Whipped Mascarpone Frosting
1 recipe Candied Pecans
Raspberry Preserve Garnish
Whipped Cream Garnish
 
Ricotta/Cream Filling
1 cup heavy whipping cream
½ cup powdered sugar
1 ½ teaspoons vanilla
1 (15-ounce) carton ricotta cheese
Whipped Cream and Mascarpone Frosting
2 cups heavy whipping cream
1 cup powdered sugar
1 ½ teaspoons vanilla
1 (8-ounce) carton Mascarpone cheese
Candied Pecans/Almonds
½ cup pecans, chopped coarse
4 teaspoons sugar, divided
1/2 cup sliced almonds, toasted
Whipped Cream
Fresh raspberries
Instructions:
 Butter and flour four 9-inch round cake pans.  Prepare cake mixes as directed and pour batters into prepared pans.  Bake as directed, careful not to overcook cakes.  Remove from oven and place on cake racks for 10 minutes.  Remove cakes and continue to cool on racks for about 1 hour.  Prepare filling while cakes are cooling. 
 Ricotta/Cream Filling:  Place the whipping cream, powdered sugar, and vanilla in electric mixer.  Beat mixture until thick and smooth, about 4-5 minutes.    Fold in the ricotta cheese and continue to mix with a fork until completely smooth.  Set filling in refrigerator for 15 minutes to set.
Whipped Mascarpone Frosting: Make whipped cream frosting by placing cream in electric mixer.  Add the powdered sugar and vanilla.  Beat on medium speed until stiff peaks form; add the mascarpone cheese and continue to mix on medium high until combined and smooth.  Place frosting in glass bowl and refrigerate until ready to frost cakes.
Candied Pecans/Sliced Almonds:   Place pecans in small fry pan with sugar over medium heat.  Stir constantly until the sugar disappears and the pecans are lightly candied; careful not to burn.  Place pecans in small bowl to cool before garnishing cake.   Toast sliced almonds in same fry pan with 2 teaspoon sugar, stirring constantly until lightly toasted.  Remove and place in small bowl to cool.  When both pecans and almonds are cooled, combine nuts.
5.     To Assemble Cake:  On large round platter, place one layer yellow cake.  Place about ½ cup of the ricotta filling over cake.  With large serrated knife, cut the chocolate layer in half.  Place one of the halves over the filling. Add another 1/2 cup ricotta over the chocolate layer.   Top the chocolate layer with the other half chocolate layer; add another 1/2 cup filling.  Top the chocolate layers with the other yellow layer.  Frost the sides of cake with the whipped mascarpone frosting; there should be just enough for sides and small edge around cake. With nuts in hand, press the nuts all around the sides of the cake.    Spread the raspberry preserves in the middle of the top of the cake, about 2-inches from the edge. Use pressurized whipped cream between the edge of the frosting and the raspberry spread.  Garnish top of cake with fresh raspberries.  Serves 16.