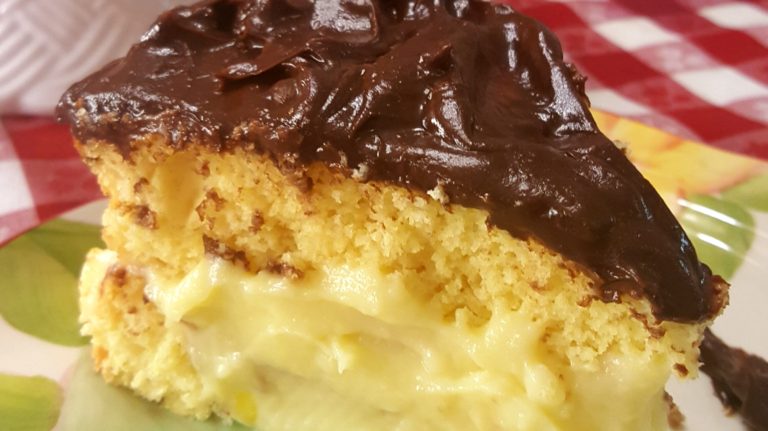 NOTE:  This tried and true classic is still as popular as ever, so full of goodness, it is hard to stop at one piece.  The homemade custard filling sends this cake/pie over the top.  The Parker House Hotel in Boston, claimed this creation in the year 1856.
Ingredients:
Butter
Flour
5 egg whites
2 tablespoons sugar
1 Betty Crocker Super Moist yellow cake mix
1 package (3.9-ounce) vanilla instant pudding mix
½ mild olive oil
½ water
1 cup sour cream
1 teaspoon pure vanilla
1 teaspoon butter extract
Homemade Custard Pudding
2/3 cup sugar
½ teaspoon salt
2 ½ tablespoons cornstarch
1 tablespoon flour
2 ¼ cups whole milk
3 egg yolks, beaten fluffy
1 tablespoon vanilla
1 tablespoon butter
Chocolate Ganache
1/2 cup heavy whipping cream
12 ounces semisweet chocolate chips
Instructions:
Preheat oven to 350-degrees. Butter and flour two 9-inch cake pans; set aside.  Beat the egg whites in a large bowl with hand mixer, adding the sugar a little at a time, until the whites are peaked and stiff; set aside.
Place the cake mix and pudding mix into an electric mixer, or continue to use hand mixer; blend on low speed to combine mixes. Add the olive oil, water sour cream, vanilla and butter extracts; beat on low to combine, then on medium until smooth.  Stop the machine and scrape down the sides of the bowl with a rubber spatula.  Beat for another minute; remove bowl.  Fold the beaten egg whites into the cake batter with a sweeping motion, from bottom to top and over again, until the egg whites can no longer be seen.
Divide the batter between the two prepared cake pans. Bake for 30 minutes, or until a tooth pick inserted comes out clean.  Remove cakes onto wire racks to cool. After 15 minutes, remove cakes from pans onto wire racks. Prepare filling and ganache.
Homemade Custard Pudding
Mix sugar, salt, cornstarch, and flour in a 3-quart saucepan. Add 3 beaten egg yolks to the milk, and stir well until fully incorporated.   Stir in milk/egg mixture into the dry ingredients slowly and cook over medium heat stirring constantly, using a slotted plastic spatula.  Cook until mixture thickens and begins to boil.  Boil gently for 1 minute, scraping bottom of pan to avoid burning.
Remove from heat. Add the vanilla and butter and stir well until butter disappears.  Cool pudding until ready to use.  Place a sheet of film over the custard to avoid a hard crust forming over the top.
Chocolate Ganache
Place the heavy cream into a small saucepan and heat to just before boiling.
Place the chocolate chips into a bowl and pour the hot cream over the chips. Let stand for 3 minutes.  Gently stir the chips and cream for about 1 minute, until the ganache forms into a smooth creamy sauce.
To Assemble the Cake: Place first layer of cake onto a pretty round platter.  Place the cooled custard over the layer; use all, or most of all the custard.  Place the second layer over the custard.  Place the cooled ganache over the top, letting some run down over the sides if desired.  Place the cake in refrigerator for a few hours to set, or serve warm if desired.  Serves 12.