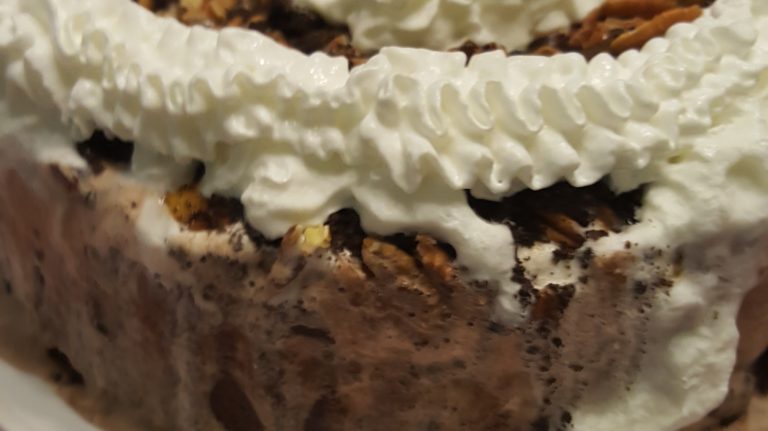 NOTE:  I make this cake for Father's Day, and really, all through the summer.  It is pure delight, loaded with lot's of chocolate ganache, cookie crumbs, and candied pecans.  The whole family will love this cake, especially dad. 
Ingredients:
1 (10-inch) spring form pan
3 ¼ cups chocolate cream-filled cookies, crushed and divided
1/3 cup butter, melted
1 (16-ounce) package semi-sweet chocolate chips, plus 1 (8-ounce) package
1 ¼ cups heavy whipping cream
1 quart rocky road ice cream
1 quart vanilla ice cream
1 cup chopped pecans
1 tablespoon sugar
¼ cup, or remainder chocolate ganache
Instructions:
Place cartons of ice cream on counter to melt slightly.  Place cookies a few at a time in a blender and crush until cookie crumbs measure to 3 ¼ cups.  Remove 2 1/4 cups of the crumbs and place in a large bowl; stir in melted butter.  Place the buttered crumbs on bottom of spring form pan and press crumbs over bottom and up the sides of pan, about 1- inch.
Make the chocolate ganache by placing the cream in a medium saucepan. Heat the cream over low heat, until very warm.  Add the chocolate chips and stir gently.  Let the chocolate chips melt into the cream untouched for about 3 minutes.  Stir the mixture gently for about 2 minutes until the sauce thickens and appears dark and shiny.   Place 1 cup of the chocolate sauce over the cookie crumbs and carefully spread over bottom.  Place pan in freezer for 10 minutes.
Remove pan from freezer. Spoon out the rocky road ice cream in chunks and place over the frozen cookie crust; press down tightly with a spoon.  The ice cream should be mostly solid.
Next, add the remainder 1 cup cookie crumbs over the rocky road ice cream and top with the ¾ cup of the remainder chocolate sauce, reserving ¼ cup for top of cake.
Next, add as much of the vanilla ice cream as your spring form pan will take. If you have a deep pan, you will be able to use the full quart of vanilla.
Lastly, toast pecans in a dry skillet with sugar for about 3 minutes over medium heat, stirring constantly. Remove from pan and spread the pecans over the vanilla ice cream layer.  Drizzle the remainder ¼ cup chocolate sauce over the pecans.  Add the remainder of cookie crumbs.  If desired, spread a few dollops caramel sauce over the chocolate.  Place the ice cream cake in freezer for about 8 to 10 hours, or overnight.  Remove cake from freezer and gently remove outer pan.  Using a butter knife, loosen the bottom of the cake and place on large round platter.  If planning to leave in freezer longer, cover top with clear wrap.  Garnish the top of cake with whipped cream. Serves 16. [caption id="attachment_1207" align="alignleft" width="237"] Father's Day Rocky Road Ice Cream Cake[/caption]