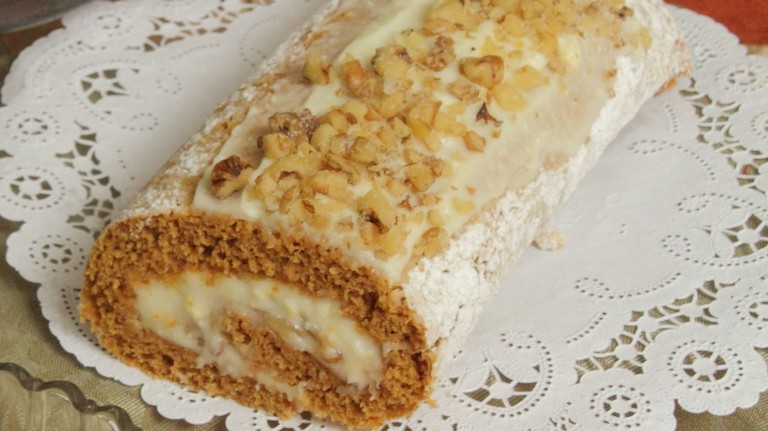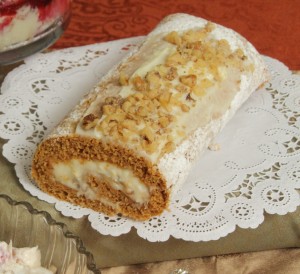 NOTE:  This pumpkin cake roll is so delicious, it can only be explained by one bite.
Ingredients:
1 (15 by 10-inch) cookie sheet
Butter
Flour
3 eggs
1cup sugar
2/3 cup solid packed pumpkin
¾ cup flour
1 teaspoon baking powder
2 teaspoons cinnamon
1 teaspoon pumpkin pie spice
½ teaspoon salt
1 cup walnuts, chopped coarsely and divided
1 tablespoon sugar
1 cup powdered sugar, divided
1 (8-ounce) package mascarpone cream cheese
 Or Philadelphia cream cheese
½ stick butter
1 ½ cups powdered sugar
1 tablespoon lemon juice
1 tablespoon freshly grated lemon zest
½ teaspoon vanilla
Powdered sugar
Instructions:
Preheat oven to 350-degrees.  Grease cookie sheet with melted butter and flour well.   Beat eggs and sugar until thick and fluffy, about 1 minute.  Beat in pumpkin; set aside.
 In large bowl, sift together flour, baking powder, cinnamon, pumpkin pie spice, and salt.  Fold the pumpkin mixture into the dry ingredients.  Pour mixture onto cookie sheet, making sure batter is evenly spread.  Bake cake for 15 minutes.
While cake is baking, place walnuts in a dry skillet with sugar.  Over medium heat, stir constantly for about 2 to 3 minutes, or until walnuts are toasted and sugared.  Remove to wax paper.
Remove cake from oven and let cool for 10 minutes.  Loosen cake around edges.  Sprinkle a large clean kitchen towel with ¾ cup powdered sugar.  Flip the cake onto the towel and gently remove pan.  Starting from the 15-inch side, roll up cake and towel together; let set for about 1 hour.
Make cream cheese filling by mixing cream cheese and butter; add powdered sugar, lemon juice, lemon zest, and vanilla; beat until smooth.
Unroll towel and cake.  Remove towel and place cake on cookie sheet.  Spread ¾ of the cream cheese filling on the cake.  Spread about ½ to ¾ cup candied walnuts over the cream cheese.  Roll the cake up gently and place seam-side down.  Spread the remainder cheese filling across top of roll and sprinkle with remaining walnuts.  Dust roll with powdered sugar.  Makes 12 slices.