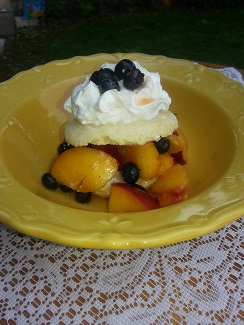 NOTE:  A great treat in early and mid-summer when peaches and blueberries are sweet and plentiful.  This homemade shortcake is quick and easy to make with a wonderful light taste.
Ingredients:
2 cups whipping cream
3 tablespoons sugar
2 1/2 cups all-purpose flour
1/4 cup sugar
4 teaspoons baking powder
1/2 cup cold butter, cut into pieces
2 large eggs, lightly beaten
1/2 cup sour cream
1 teaspoon vanilla
2 pounds fresh peaches, unpeeled
1 tablespoon lemon juice
1/2 cup sugar
1/4 teaspoon ground nutmeg
1 teaspoon almond extract
1 tablespoon butter
1 cup fresh blueberries
whipped cream
peach wedges and blueberries
Instructions:
Preheat oven to 450-degrees.  Pour whipping cream into a glass bowl and beat with electric mixer until foamy.  Gradually beat in sugar at medium speed until stiff peaks form.  Cover and chill.
In large bowl, combine flour, sugar, and baking powder; cut in butter with a pastry blender or fork until crumbly.  Stir together eggs, sour cream, and vanilla until blended; add to flour mixture, stirring just until dry ingredients are moistened.
Flour counter top and hands well to handle dough.  Turn dough out onto floured counter top and turn a few times.  Knead gently about 8 to 10 times.  Roll dough into a 12-inch circle.  Using a 3-inch biscuit cutter, cut into 15 rounds.  Place rounds on parchment paper or use baking spray on baking sheet.  Bake for 12 minutes or until golden.  Remove from oven.
Cut peaches into wedges and sprinkle with lemon juice.  Place peaches, sugar, nutmeg, and almond extract in medium saucepan.  Cook over medium heat until bubbly, about 3 to 4 minutes.  Remove from heat and add butter.  Stir together until melted.  Let cool slightly; add blueberries.
Remove shortcakes from baking pan; split rounds in half and lay bottom half in bowls.  Divide fruit over bottom of rounds; top with dollop of whipped cream.  Put top of shortcake over fruit.  Garnish with more whipped cream, peach wedges and blueberries. Yields 15 shortcakes.
Strawberry Shortcake
1 quart fresh strawberries
1/2 cup sugar
Combine sliced strawberries and sugar; stir gently and chill 1 to 2 hours.  Spread berries and juice over bottoms of shortcakes, and proceed as above.