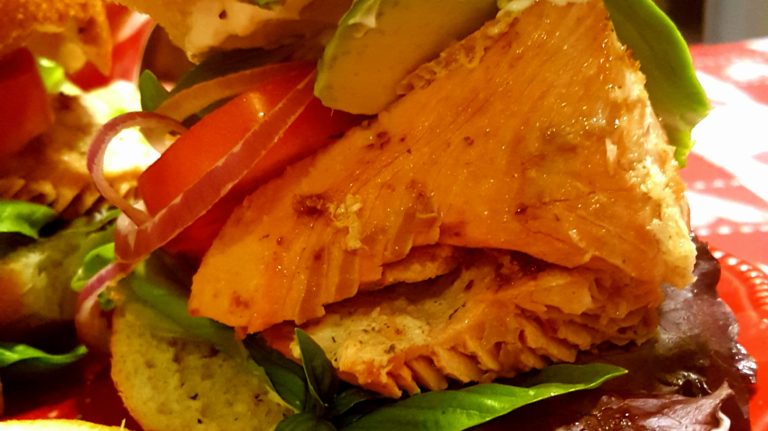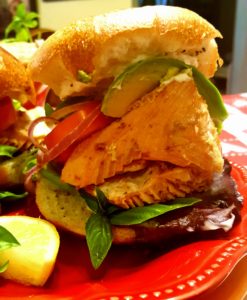 NOTE:  Your are absolutely going to love, love, these sandwiches.  The salmon is pan-fried with a seasoned crust on the outside, and succulent meat on the inside.  The filets are topped with sweet basil, fresh tomato, avocado and sweet sliced purple onion.  These are mouth-watering good!
Ingredients:
Olive oil
6 (6 to 7-ounce) salmon filets, deboned and skined
Lawry's coarse garlic salt with parsley added
Sprinkle of red pepper flakes
1/3 cup melted butter
1 to 2 lemons, freshly squeezed
6 Kaiser rolls
Butter
Kosher salt
Coarse Black Pepper
 Hellman's mayonnaise
6 curly green lettuce leaves
2 cups loose fresh basil leaves
2 large garden tomatoes, sliced medium
2 medium avocados, sliced
1 small purple onion, thinly sliced
Colorful long tooth picks
Instructions:
In a large skillet, pour olive oil to cover bottom of pan. Lay the salmon filets in the skillet.  Sprinkle the salmon on both sides with the Lawry's coarse garlic salt, and sprinkle of red pepper flakes.   Brush the top of the filets with melted butter.  Pan fry the salmon about 5 to 7 minutes on each side, until a crust forms on the salmon.  Squeeze the juice of one lemon over the salmon towards the end of cooking.  Turn, and sprinkle more lemon juice over the other half.  Remove the salmon filets to a platter and set aside.
Arrange 8 slices of the Italian sesame seed bread. Spread each half with desired amount of mayonnaise.  Starting with the bottom half of the roll, place a curly green lettuce leaf over the mayonnaise.  Next, add 1 slice of the tomato.  Next, add the salmon filet.  Sprinkle the salmon with a little more lemon juice if desired.  Over the salmon, add 1 or two slices of the avocado.  Top the avocado with two thinly sliced onions.  Place the top half over the slider and secure with a tooth pick.  Place sandwiches on tray and serve.  Makes 6 salmon Sliders.