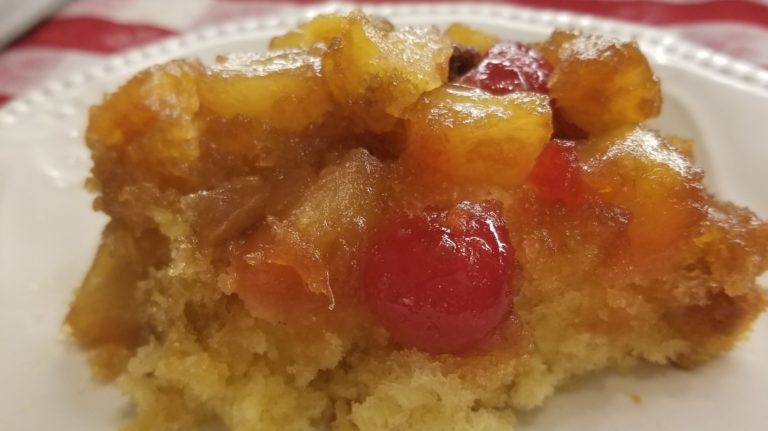 NOTE: This cake is the ever popular pick for so many, especially the older generation who have fond memories of their mothers making this cake. Everyone loves this recipe!              
Ingredients:
1 Pillsbury Moist Supreme yellow cake mix
1 cup water
1/3 cup mild olive oil
3 eggs
½ stick butter, melted
2 cups light brown sugar
1 (20-ounce) can pineapple slices or chunks, drained
8 to 10 maraschino cherries
1/4 cup pecans, whole, optional
Instructions:
Preheat oven to 350-degrees. In large bowl, mix by hand the cake mix, water, oil, and eggs, just until all lumps are dissolved.
Coat the bottom of a 13 by 9-inch baking pan,  with the melted butter. Add the brown sugar and spread evenly over the butter.  Arrange the pineapple slices or chunks over the brown sugar.  Place a maraschino cherry in the center of each pineapple ring.  If using chunks, cut some of the big chunks in half and place the cherries in various places around the chunks.  Place the pecans around the pineapple.  Pour the cake batter over all.  Bake for 35 minutes or until the middle of the cake springs back when touched.
3. Remove cake from oven and loosen sides with a butter knife.  Place a large square platter over the cake and using both hands with pot-holders, flip the cake over onto the platter.  Be sure to hold the platter steady over the cake pan while flipping.  Serve warm or at room temperature.  Makes 12 slices.