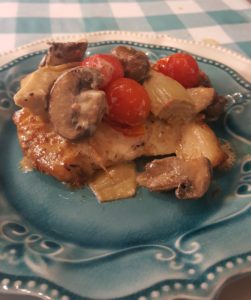 NOTE:  This grilled chicken is so tender and full of flavor, that you could eat it alone.  But when served with the cream sauce and vegetables, it really comes to life.  So easy to make, so easy to enjoy.
Ingredients:
4 frozen large chicken breasts, thawed
Lawry's coarse garlic salt with parsley added
½ stick butter
2 tablespoons mild olive oil
2 tablespoons lemon juice
Vegetables
½ stick butter
2 tablespoons mild olive oil
1-pound Baby Portobello mushrooms, sliced medium, and halved
½ cup red bell peppers, sliced medium
1 (12-ounce) jar marinated Artichokes, drained
2 tablespoons sun-dried tomatoes in oil
2 cups heavy cream
1 teaspoon salt
½ teaspoon coarse ground pepper
2 teaspoons balsamic vinegar
1 to 2 teaspoons freshly squeezed lemon juice
1 cup grape tomatoes
 Or 1 medium garden tomato, quartered
Instructions:
Lay chicken breasts in a shallow baking dish. Lightly sprinkle garlic salt on both sides of the chicken breasts.  Melt the butter and add the olive oil and lemon juice; mix together.   Pour butter mixture over the chicken breasts and let sit for a few minutes.  Grill the breasts about 6 minutes on each side until chicken runs clear when pierced with fork. Continue to brush marinade over chicken as it grills.  If no grill is available, fry the chicken in butter and oil, for about 6 minutes on each side.  Sprinkle with lemon juice and set aside.
Using another fry pan, place the butter and oil in the pan and heat until warm. Add the mushrooms and red bell peppers; sauté about 3 minutes.  Add the artichokes and sun-dried tomatoes; cook together about 4 to 5 minutes.  Add the cream, salt, and coarse pepper, balsamic vinegar and lemon juice.   Cook on low heat until the cream and vegetables have blended together, about 5 minutes.
Turn heat off and add the tomatoes. Gently stir in the tomatoes to keep them from becoming mushy.  Taste, and add any desired additional seasonings.
Place one chicken breast on dinner plate. Ladle each breast with a portion of the creamed vegetables.  Serves 4.