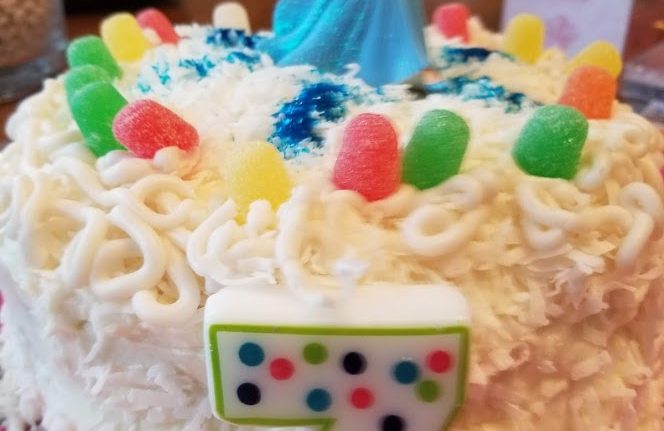 NOTE:  This simple White Yogurt Pudding Cake is a perfect cake for a birthday.  Covered with coconut, it is easy to decorate, plus it taste great.   I made this cake for my granddaughter, Naomi who celebrated her 7th birthday on August 15, 2018
Ingredients:
Butter
Flour
5 egg whites
2 tablespoons sugar
1 box Duncan Hines Classic White cake mix
1 package (3.9-ounce) vanilla instant pudding mix
½ cup mild olive oil
½ cup water
1 cup Greek low-fat yogurt
1 teaspoon pure vanilla
1 teaspoon almond extract
Custard Pudding Filling
1 package (3.9-ounce) vanilla instant pudding mix
2 cups whole milk
1 tablespoon Greed low-fat yogurt
Buttercream Frosting
8 tablespoons sweet cream butter, room temperature
4 cups powdered sugar
3 to 4 tablespoons half and half
1 teaspoon pure vanilla
1 teaspoon almond extract
1 cup shredded coconut
Instructions:
Preheat oven to 350-degrees. Butter and flour two 9-inch cake pans; set aside.  In an electric mixer, place egg whites and sugar.  Beat on medium speed to combine, then on high speed until the whites are peaked and stiff.   Remove egg whites and place in medium bowl; set aside.
Place the cake mix and pudding mix into the same mixing bowl; blend with an electric mixer on low speed to combine. Add the olive oil, water, yogurt, vanilla, and almond extract; beat on low to combine, then on medium until smooth.  Stop the machine and scrape down the sides of the bowl with a rubber spatula.  Beat for another minute; remove bowl.   Fold the beaten egg whites into the cake batter with a sweeping motion, from bottom to top, and over again, until the egg whites can no longer be seen.  Divide the batter between the two prepared cake pans.  Bake for 30 minutes, or until an inserted tooth pick comes out clean.  Remove cakes onto wire racks to cool.   Prepare filling and frosting.
Make the pudding filling by placing pudding mix into a medium bowl; add milk and stir with whisk until smooth.   Fold in the yogurt and place into refrigerator to thicken for 15 to 20 minutes.
Make the buttercream frosting by placing the butter and 2 cups of the powdered sugar in mixing bowl.  On medium speed, cream the butter and sugar until smooth.   Add the half and half, vanilla, almond extract, and the remaining powdered sugar.  Mix on medium to high speed until smooth with a satin texture.
To Assemble Cake:   Using a serrated knife, slice both cake layers through the middle in half to make 4 thin layers.   Place the first layer on cake pedestal.  Spread custard filling over the first layer.  Place second layer over custard filling and continue to spread custard filling over layers.  Place last layer on top.  Frost the sides and top of cake with the buttercream frosting.  Pat coconut onto the sides and top of cake.  Decorate top and around sides of cake for any occasion. Place a cherry on the top.  Makes 16 slices.