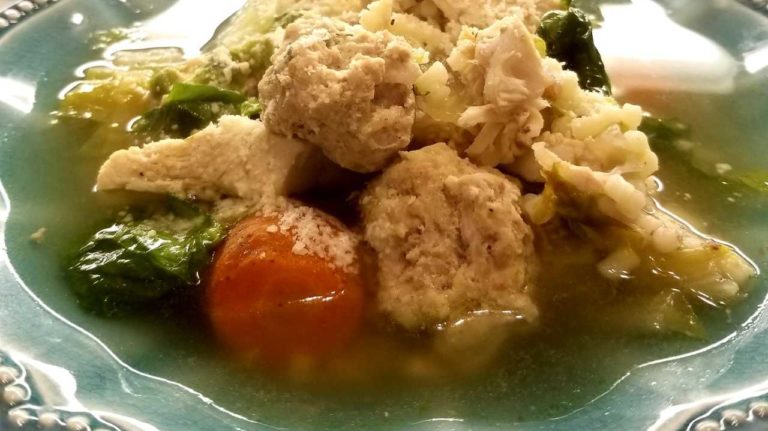 NOTE:  This soup is an Italian Classic, and full of Italian flavor.  From the tiny Italian meatballs, to the rich chicken and escrole, this soup has everything all in one.  You will love this soup.
Ingredients:
3 quarts water
1 carton Kitchen Basics Chicken Stock (4 cups)
1 whole soup chicken
3 stalks celery with leaves, cut into thick pieces
2 medium carrots peeled and quartered
1 medium onion quartered
2 to 3 sprigs fresh parsley
1 tablespoon salt
¼ teaspoon ground black pepper
1-pound ground chuck or sirloin
¼ cup plain bread crumbs
¼ cup grated Parmesan cheese
1 clove garlic chopped fine
2 tablespoon fresh curly parsley
2 eggs
1 teaspoon salt
1/8 teaspoon ground black pepper
1 head escarole, chopped, about 4 cups
½ pound acini di pepe pasta,
2 teaspoons salt
Coarse ground black pepper
Freshly grated Parmesan cheese
Instructions:
Using an 8-quart pot, add 3 quarts water, and the chicken stock. Rinse chicken under cool water, and remove liver, gizzard, and neck; use for later, or discard. Place chicken in pot with liquid.  Add the celery, carrots, onion, parsley and salt and pepper.  Bring to boil and skim foam as it rises to the top.  Cover with lid and cook for 1 hour or longer, until the chicken is tender.
 Remove chicken to platter and let cool completely. Keep vegetables in soup, or discard   Bring broth to soft boil and make meatballs by combining ground chuck, bread crumbs, cheese, garlic, parsley, eggs, and salt and pepper.  Mix together well and make tiny meatballs, about the size of large grapes.  Drop the meatballs into the hot broth; skim any foam from meatballs as it rises to top and remove.  Skin and debone the cooled chicken; cut into small pieces and return to broth.  Let the meatballs and chicken cook together about 10 minutes.
Rinse the escarole and remove bottom core; chop and add to the broth. Keep broth on soft boil and simmer for 5 minutes.  Pre-boil the acini di pepe in boiling salted water for about 5 minutes, drain and add to the broth; simmer an additional 10 to 12 minutes.  Taste soup and add any additional seasonings as desired.   This soup will have a rich chicken and beef flavor.  Ladle soup into soup bowls and garnish with freshly grated Parmesan cheese.  Serves 8 to 10.