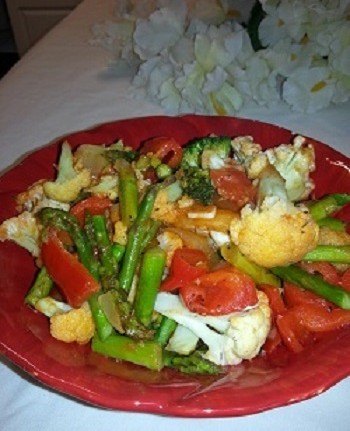 NOTE:   These vegetables are brimming with flavor and can be added to most any main dish.  They are crisp tender which gives them a delightful crunch.
Ingredients:
1/3 cup extra virgin olive oil
2 cups broccoli florets
2 cups cauliflower florets
1 bunch fresh asparagus, hard ends trimmed and cut into thirds
1 medium zucchini, sliced into 2-inch cubes
1 large red bell pepper, sliced thin
1 small onion, chopped into small quarters
3 cloves garlic, chopped
1 teaspoon salt
½ teaspoon ground black pepper
¼ teaspoon crushed red pepper flakes
½ cup marinara sauce,
 Or ½ cup tomato sauce
Instructions:
 Place olive oil in large skillet.  Add the broccoli, cauliflower, asparagus, zucchini, bell pepper, and onion.   Add the garlic and sprinkle the vegetables with salt, pepper, and red pepper flakes.   Stir-fry the vegetables on medium high heat, stirring frequently, for about 10 to 12 minutes, or until vegetables are crisp tender and have a good flavor.    Add the marinara sauce and any additional seasonings as desired; simmer an additional 5 minutes.    Serves 6.