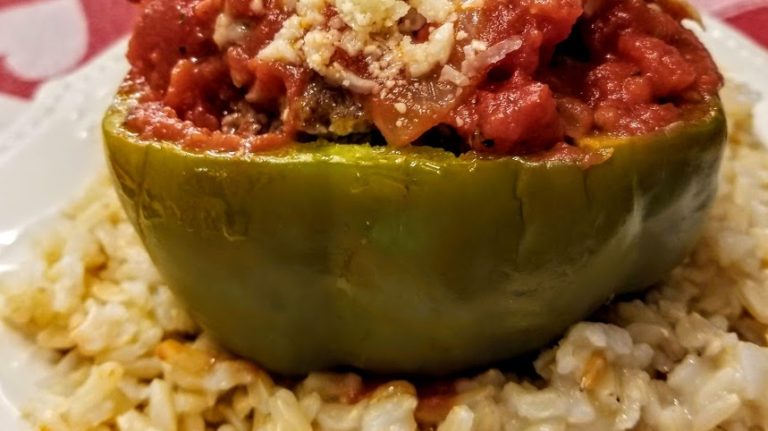 NOTE:  These stuffed peppers are so full of flavor, your palate will jump for joy.   They are stuffed with Italian laced hamburger, and topped with a rich tomato sauce.  Great entree for any meal.
Ingredients:
4 medium green bell peppers,  red or yellow
1-pound ground chuck, or sirloin
¼ cup grated Parmesan cheese
¼ cup plain bread crumbs
2 cloves garlic, chopped
2 tablespoons fresh curly parsley, chopped
2 eggs
1 teaspoon salt
¼ teaspoon ground black pepper
½ cup olive oil, divided
½ cup celery, chopped small
1/3 cup onion, chopped small
1 (15-ounce) can diced tomatoes, juice included
1 teaspoon sugar
½ teaspoon dried basil leaves
1/2 teaspoon salt
¼ teaspoon ground black pepper
¼ teaspoon crushed red pepper flakes
1 (15-ounce) can tomato sauce
3 cups cooked rice
Instructions:
Preheat oven to 350-degrees. Core peppers and cut each one in half.  Remove inside seeds and ribs.  Wash the peppers in cool water; pat dry and set aside
In large bowl, mix the ground chuck, cheese, bread crumbs, garlic, parsley, eggs, and salt and pepper until well combined. Divide the meat among the peppers, filling each half.  In a large skillet over medium heat, brown the filled peppers in ¼ cup olive oil, about 3 minutes on each side.  If all peppers do not fit on first browning, divide them until all are browned.  Place peppers in a large deep baking dish; set aside.
In remaining ¼ cup olive oil, brown the celery and onion until translucent, 4 to 5 minutes. Add the tomatoes, sugar, basil, and salt and pepper; simmer 5 minutes.  Add tomato sauce and simmer another 5 minutes.  Remove from heat and pour sauce over peppers in baking dish.  Cover with foil and bake 30 to 45 minutes, or until peppers are soft and sauce is bubbly.   Boil rice to make 3 cups.  Remove the peppers when hot and bubbly and arrange over the rice on a large platter.  Serves 8.