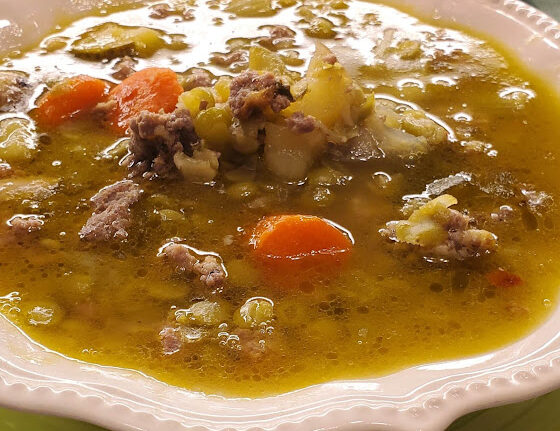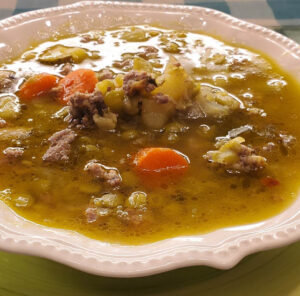 NOTE:  It took family members to remember this wonderful soup made by my mother, Ann Fiorino.  It is a hearty delicious soup that warms the heart and soul.  I hope you love this soup as much as our family.
Ingredients:
1 (pound) dried split peas
8 cups chicken broth
2 small pork chops
1 (pound) Italian Hamburger (See recipe below)
Lawry's garlic salt with parsley added
¼ cup olive oil for frying meat
2 tablespoons olive oil
½ cup onions, copped
½ celery, chopped
½ carrots, chopped
1 cup potatoes, diced
½ cup green zucchini, chopped
1 teaspoon fresh garlic, finely chopped
1 teaspoon salt
½ teaspoon freshly ground black pepper
1/2 teaspoon crushed red pepper flakes
1 tablespoon fresh parsley, chopped
Recipe for Italian Hamburger
1 (pound) lean ground beef
¼ cup breadcrumbs
¼ cup Parmesan grated cheese
1 egg
½ teaspoon fennel seed
1 clove garlic, chopped fine
1 tablespoon parsley, chopped
1/2 teaspoon salt
¼ teaspoon ground black pepper
Instructions:
Place the peas in a large pot and cover with water by 3-inches to soak overnight. Drain, and wash the peas, discarding any damaged peas or debris. Place the drained peas back in pot. Add half of the chicken broth, 4 cups, and bring the broth and peas to gentle boil. Skim foam as it rises from the peas and discard.
Place olive oil in skillet, and sprinkle pork chops with garlic salt. Brown chops in oil on both sides about 8 to 10 minutes: set aside. Prepare the Italian hamburger recipe and cook over medium heat until no pink appears, about 8 to 10 minutes. Place the pork chops, including the bone, and the scattered hamburger in with the peas.
In medium skillet, add 2 tablespoons olive oil. Add the onions, celery, carrots, potatoes, and zucchini. Sauté the vegetables, and while they are cooking, add the garlic, salt, black pepper, pepper flakes, and parsley. Cook the vegetables about 8 minutes.
Place the vegetables in the large pot with the peas and meat; add the remainder 4 cups chicken broth. Stir well and bring the soup back to a gentle boil, skimming off any foam that may rise to the top. Cook the soup until the peas are tender, about 2 hours, stirring often to prevent the soup from sticking. Before serving, remove the bones from the pork chops, and dice the pork into the soup. Add more chicken broth or water if the soup becomes too thick or dry. Taste, and add any additional spices if desired. Ladle the soup into bowls and serve hot. Serves 6 to 8.