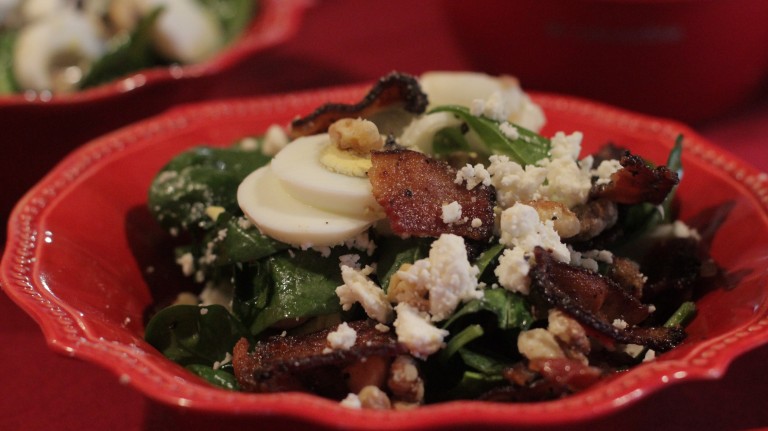 NOTE:  This is one salad recipe you will use over and over.  It is so full of flavor, and all topped off with a sweet sour sauce, that really brings it all together.  Yum!
Ingredients:
1(8-ounce) package fresh washed spinach, stems removed
½ cup green onions, tops included, chopped small
1(8-ounce) package button mushrooms, washed and sliced
1 cup walnuts
1 tablespoon sugar
1 pound thick-sliced peppered bacon
Sweet Sour Sauce
Bacon drippings, ½ cup
1/3 cup cider vinegar
1 tablespoon sugar, more if needed
½ teaspoon salt
6 hard-boiled eggs
1 (8-ounce) container feta cheese
Instructions:
Place the spinach into a large bowl; remove any long stems   Add the mushroom and the green onions and give the salad a toss.
 Place the walnuts and sugar in a medium skillet, and over medium heat, stir the walnuts and sugar occasionally until toasted and candied, about 2 to 3 minutes.  Set aside.
 Cut the bacon strips in half for easier frying.  Fry the bacon until crisp; remove bacon and set aside.  Reserve the drippings, at least 1/2 cup.
 Make the sweet sour sauce by heating the bacon drippings to a gentle boil.  Add the vinegar, sugar, and salt, and stir until well combined.  Remove from heat and pour the drippings over the spinach.  Give the salad a toss to coat well.
Divide the spinach among 6 bowls.   Place the crisp bacon over top of each salad.  Top each salad with a sliced hard-boiled egg.   Next, divide the candied walnuts over the salads.  Lastly, divide the feta cheese, as much as desired, over the salads.   Makes 6 salads.