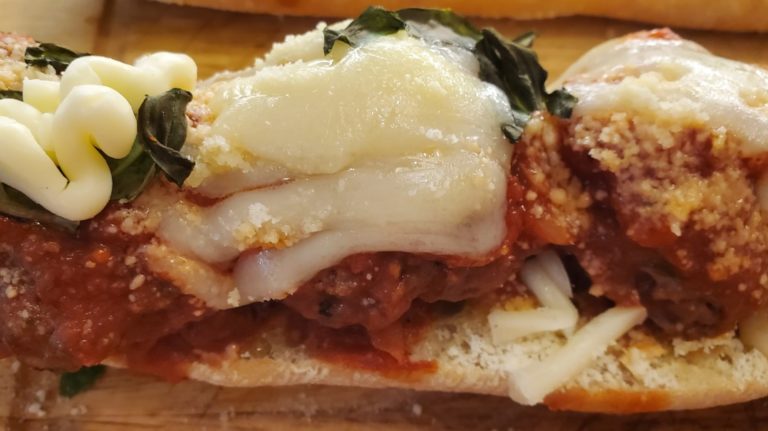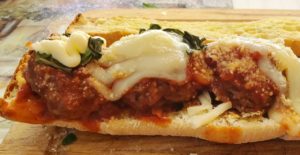 NOTE:  These Italian meatball subs are great for a quick dinner dish and are very filling.   You will have enough meatballs and sauce to easily double this recipe.  Serve them with your favorite Italian salad and you are home free!
Ingredients:
1 (20-inch) loaf French baguette
Meatballs
1-pound ground chuck or sirloin
2 cloves garlic, chopped
¼ cup plain or Italian breadcrumbs
¼ cup Parmesan cheese
2 tablespoons fresh curly parsley, chopped
2 eggs
½ teaspoon fennel seed
½ teaspoon salt
¼ teaspoon ground black pepper
Olive oil
Marinara Sauce
¼ cup olive oil
1 small onion, chopped small
2 cloves garlic, chopped small
1 (15-ounce) can diced tomatoes
2 teaspoons sugar
½ teaspoon dried basil leaves
¼ teaspoon crushed red pepper flakes
½ teaspoon salt
½ teaspoon black pepper
1 chicken bouillon cube
½ cup Kitchen Basics chicken stock
1(15-ounce) can tomato sauce
1(6-ounce) can tomato paste
Yield:
4 Italian Meatball Subbs
Rating:
Instructions:
Preheat oven to 375-degrees.  If baguette is unbaked, place in oven and bake for 8 to 10 minutes.  Set aside.  Prepare the Meatballs by placing the ground chuck into a large bowl.  Add the garlic, breadcrumbs, Parmesan cheese, parsley, eggs, fennel seed, salt and black pepper.  Using a fork, or with clean hands, mix the meat and seasonings very well.  Taking ¼ cup meat, form the meatballs and place into a large frypan with olive oil to cover the bottom of pan.  Partially fry the meatballs and place them in a bowl and set aside.
Prepare the Marinara Sauce by pouring olive oil into a medium saucepan. Add the onion and cook for 3 to 4 minutes until lightly browned.  Add the garlic and cook for another minute.
Add the diced tomatoes, sugar, basil leaves, red pepper flakes, salt, pepper and bouillon cube. Stir together and add the chicken stock.  Bring back to gentle boil and let simmer for 6 minutes.  Add the tomato sauce, paste and water and let simmer for 6 to 8 minutes.  Add partially cooked meatballs; let meatballs cook in the sauce for another 8 to 10 minutes.  Remove from heat.
To Assemble Meatball Subs
Extra virgin olive oil 2 cloves garlic, minced Parmesan cheese Rope Provel cheese, or 8 slices Provolone cheese
Lay the baguette on a cutting board and slice right through the middle.  On the bottom loaf, scoop out a small layer of the bread to make a "well" for the meatballs to rest.  Brush extra virgin olive oil on both the bottom and top of the baguette.  Rub in 1 clove minced garlic on the bottom half, and 1 clove minced garlic on the top half.  Sprinkle each half with Parmesan cheese.
Place the baguette halves on a large cookie sheet. Place back in oven for 6 minutes and remove.
Let the baguette halves cool a bit. Taking the bottom half baguette, place the meatballs with sauce all along the "well."  There should be 8 to 12 meatballs placed, depending on the size of the meatballs.
Top the meatballs with sauce and the provel rope cheese. If using provolone slices, place the slices over the meatballs.  Place the cookie sheet back into the oven for about 6 minutes, enough to melt the cheese.
Remove from oven and garnish top with chopped fresh basil if desired. Place the top half onto the meatball assembly.  With sharp serrated knife, cut the baguette into 4 subs.  Yield 4 Italian Meatball subs.
NOTE:  To make croutons from left-over removed bread, roll the bread in extra virgin olive oil.  Sprinkle with kosher salt and ground black pepper.  Sprinkle with Parmesan cheese and place on cookie sheet for about 6 to 8 minutes.