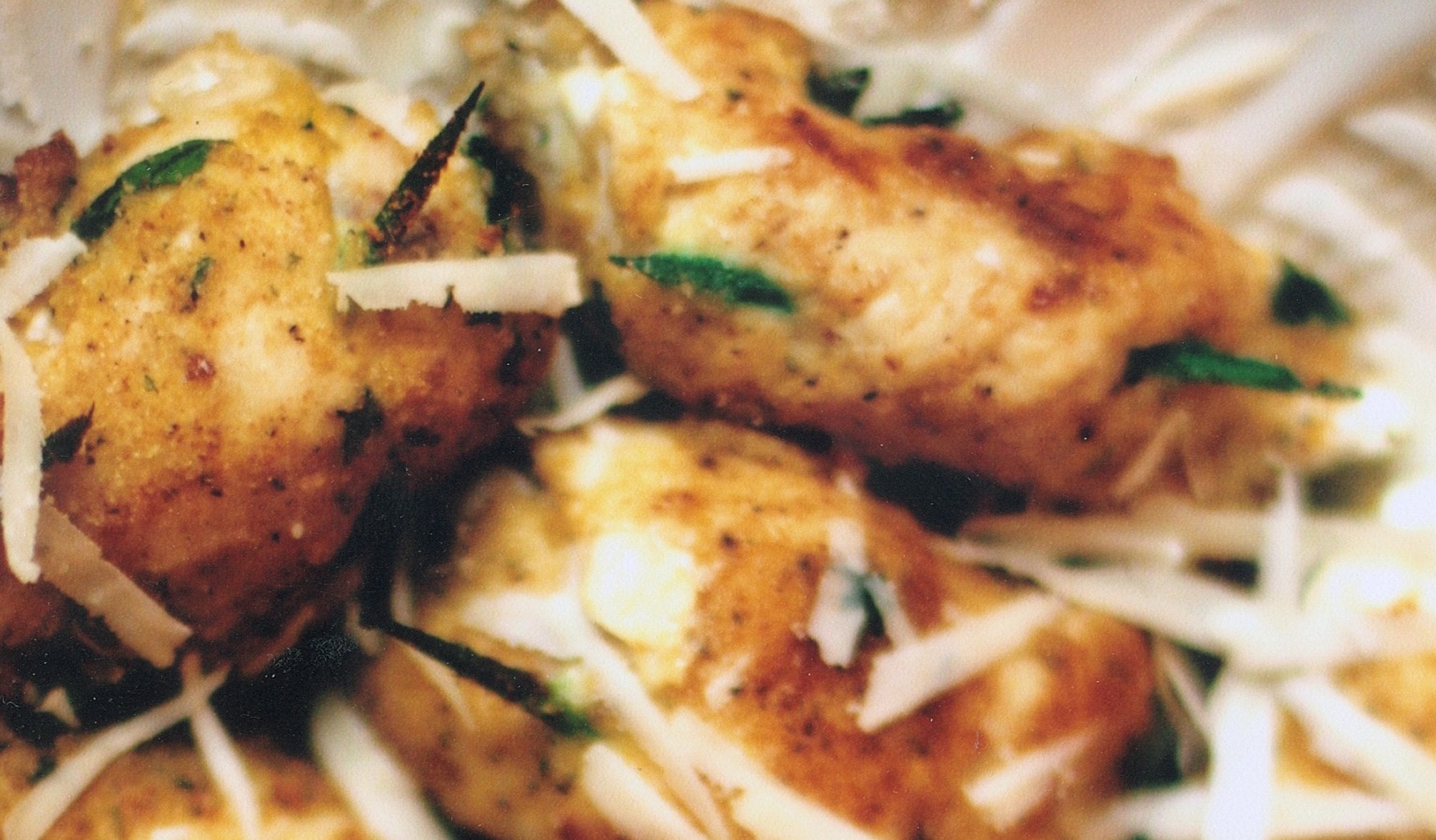 One of My favorite authentic Italian-American Recipes, my Italian Breaded Chicken Rolls with Peppermint Sauce!
Ingredients:
600 Gram Chicken Breast (lengthwise)
1 Tbsp Olive Olive
1 Teasp Garlic Salt
250 Gram Porscuitto Ham
1 Cup Frozen Spinach
1 Pinch Coarse Salt
1 Pinch Pepper
300 Gram Buffalo Mozzarella Cheese
2/3 Cup Olive Olive (for frying)
For The Coating
2 Medium Eggs
1/2 Cup Breadcrumbs
1/2 Cup Parmesan Cheese
2 Clove Garlic Mince
1 Pinch Kosher Salt
1 Pinch Pepper
For The Sauce
1/2 Cup Peppermint Leaves
2 Clove Garlic
2 Tbsp Olive Oil
2 Cup Tomatoes
1/2 Teaspn Kosher Salt
1/4 Cup Cracked Pepper
2 Tbsp Water
1 Teasp Lemon Juice
Things You Will Need
Electric Skillet
Toothpick
Wooden / Glass Pestel
Instructions:
Getting Ready
Clean and pound the chicken breast and keep it aside.
Chop the Garlic and spinach, keep in separate bowl, beat the eggs, dice the tomatoes.
In a bowl, combine the breadcrumbs, Parmesan cheese, chopped garlic and salt & pepper.
In a bow, combine the spinach, olive oil, salt & pepper, keep it aside until needed
Making
Take the chicken breast, dip it in the olive oil which has been seasoned with garlic salt, coat them well.
Place the porscuitto ham followed by the prepared spinach, finally a slice of mozzarella cheese.
Roll the chicken breast and seal the edges with a toothpick.
In a large skillet heat olive oil.
Once the chickens are done, roll it in the beaten egg and coat it with the breadcrumbs mixture.
Once done place the rolled chicken in the hot skillet and saute them for 4 minutes on each side or until they are brown and cooked.
In a wooden or glass pestel, pound the peppermint, garlic, olive oil, chopped tomatoes, salt and pepper, water, lemon juice.
Once done keep the sauce aside in a serving dish.
Remove the fried chicken and place it in a serving plate.
Serving
Serve the Fried Breaded Chicken Rolls along with Peppermint Tomato Sauce.