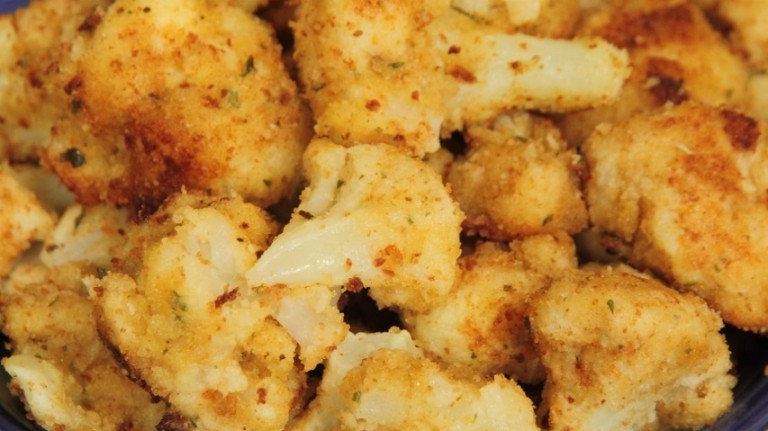 NOTE:  You will love this mouth-watering crunchy cauliflower.  Sprinkle it with Parmesan cheese, or use it with your favorite marinara….yum!
Ingredients:
1 large head cauliflower
2 teaspoons salt
3 eggs, beaten
 1 cup Progresso Italian Style bread crumbs
1/3 cup grated Parmesan cheese
2 cloves garlic, chopped fine
2 tablespoons fresh curly parsley, chopped
1 teaspoon salt
1/4 teaspoon ground black pepper
Olive oil
Salt and pepper
Parmesan cheese
Instructions:
 Remove stems from cauliflower, and break cauliflower into small florets.   Boil cauliflower florets in boiling salted water just until tender, 6 to 8 minutes.  Drain and set aside.  Beat eggs in large bowl and add the florets, mixing gently to coat.
Mix the bread crumbs, cheese, garlic, parsley, and salt, and pepper together.  Place in large shallow bowl.  With slotted spoon, lift a few of the florets out of the egg mixture and into the bread crumbs.  Roll in crumbs until well coated.   Place coated florets on wax paper on cookie sheet until all have been coated with crumbs.
Pour olive oil in large skillet or in an electric fry pan, and fry the florets until golden brown.  Sprinkle salt and pepper over florets while frying.  Transfer florets to a paper towel, then to a large platter.  Continue frying all the florets.  If oil in skillet becomes too dark, clean pan with paper towel and add new olive oil to continue frying.
Sprinkle cheese over the warm cauliflower florets and serve immediately.   Serves 6.