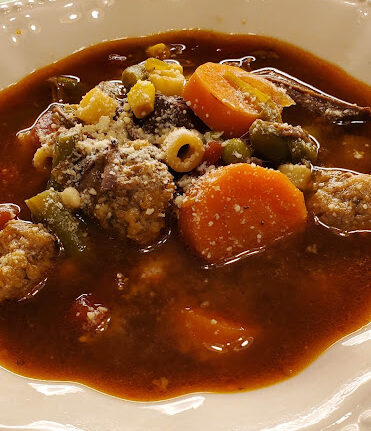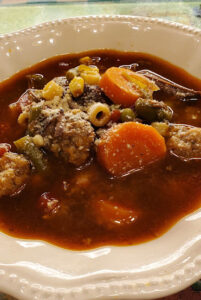 NOTE: My mother, Ann Fiorino, would make this soup during the winter months.  We always looked forward to dipping her homemade Italian bread into the hot broth.  Instead of stew meat, I have changed this up a bit and used a baked chuck roast in its place. 
Ingredients:
1 small chuck roast, hard fat removed
Lawry's coarse garlic salt with parsley added
Olive oil
2 medium onions, cut in halves
2 carrot sticks, chopped in half
2 celery stalks, chopped in fourths
1 (32 ounce) carton beef stock, or broth
1 envelope of Lipton Beefy Onion soup mix
Italian Meatballs
1/2-pound lean ground beef
1/4 cup Italian breadcrumbs
1/4 cup grated Parmesan cheese
1 small clove garlic, minced
2 tablespoons fresh parsley, chopped
1/2 teaspoon fennel seed
1 large egg
1 teaspoon salt
1/4 teaspoon ground black pepper
Olive oil
Soup
2 (32-ounce) cartons beef stock, or broth
Stock from baked chuck roast
1 cup celery with leaves, chopped 1-inch pieces
2 carrots, chopped 1-inch pieces
1 small potato, unpeeled, quartered small
1 (15-ounce) can diced tomatoes
1 (8-ounce) can tomato sauce
1 tablespoon Better than Beef Base
Additional water if needed
1(12-ounce) bag frozen mixed vegetables
1/2 cup acini di pepe, or ditalini pasta
Parmesan cheese for topping, optional
Instructions:
Preheat the oven to 275-degrees. Sprinkle roast with Lawry's garlic salt on both sides. Pour olive oil in large fry pan and place the roast in heated pan; sear on both sides for about 2 to 3 minutes. Remove roast and place in roasting pan. Add the halved onions in same oil, and brown well on both sides. Remove onions, and add the onions, carrots, and celery to the pan with roast. Pour in the beef stock and add the soup mix.  Add the water and cover the roasting pan with lid or foil. Bake the roast for 4 hours.
Prepare the meatballs by placing the ground beef in large bowl. Add the breadcrumbs, grated cheese, garlic, chopped parsley and fennel seed. Add the egg, salt and black pepper and mix with clean hands until completely blended. Make very small round meatballs and brown in olive oil until no pink remains. Remove the meatballs with slotted spoon to drain and set aside.
Remove chuck roast when completed baking. Cut the desired amount of beef into small chunk-style pieces and place in 4-quart soup pot along with the drippings from roast. Reserve the remainder baked roast and vegetables for another time.
Add the two cartons beef stock to the soup pot and bring to a boil. Add the celery, carrots, potato, diced tomatoes and tomato sauce. Let vegetables cook together for about 15 minutes. Add the meatballs and continue to cook, stirring occasionally. Skim off any foam residue from the meat and discard. Allow the soup to boil gently for another 15 minutes
Next, add the frozen mixed vegetables, and continue to simmer until vegetables are tender, about 20 minutes. Add a little water if the soup becomes too thick. Taste the soup and add the beef base, salt and pepper, and any other flavorings as desired.
Lastly, pre-boil the pasta in boiling salted water, and drain when partially done. Add the pasta to the soup pot and let the pasta gently boil in the soup, careful not to overcook the pasta. Ladle the soup into bowls and serve hot accompanied with a thick slice of Italian bread. Serves 10 to12.