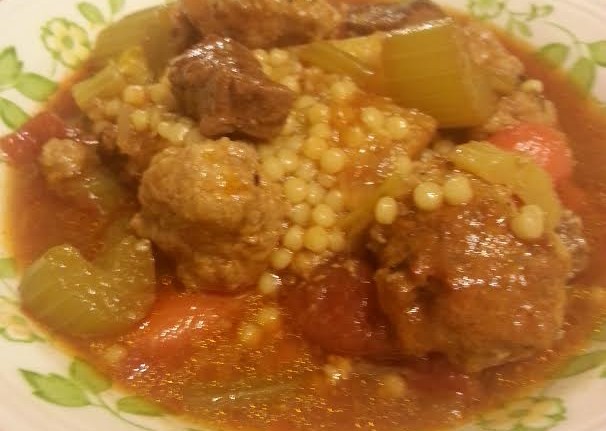 Note:  My mother, Ann Fiorino, would make this soup almost once a week in the winter.  We would always look forward to dipping her homemade Italian bread in the hot broth and savoring the little meatballs.
Ingredients:
1/2 pound stew meat, cut into 1-inch cubes
Salt and pepper
1/4 cup olive oil
2 (32-ounce) cartons Kitchen Basics low sodium beef stock
2 to 3 cups water
1 pound ground chuck
1/4 cup plain, or Italian bread crumbs
1/4 cup grated Parmesan cheese
1/4 cup onion, finely chopped
2 tablespoons fresh parsley, chopped
1/2 teaspoon fennel seed
2 eggs
1 teaspoon salt
1/4 teaspoon ground black pepper
2 cups celery with leaves, chopped 1-inch pieces
1 cup baby carrots
1 small onion, quartered small
1 to 2 medium potatoes, unpeeled, quartered small
1 (15-ounce can diced tomatoes
1 (8-ounce can tomato sauce
2 beef bouillon cubes, optional
1/2 cup acini di pepe pasta
Parmesan cheese, optional
Instructions:
Rinse stew meat in cool water; pat dry.  Using kitchen scissors, cut meat into 1-inch cubes.  Salt and pepper meat and place into large soup pot.  Add olive oil and saute on medium high until browned.  Add the beef stock and 2 cups water; bring to gentle boil and cook for 10 minutes.
Prepare meatballs by placing ground chuck into a medium bowl.  Add the bread crumbs, cheese, onion, parsley, fennel seed, eggs, and salt and pepper.  With clean hands, mix the meat with the crumbs, cheese, eggs, and spices; form into small meatballs.  Add the meatballs to the stew meat and beef stock.  Simmer together until boiling.  Skim foam from meatballs as it rises to the top.
Add the celery, carrots, onion, potatoes, tomatoes, and tomato sauce.  Cover pot and simmer on medium heat for about 45 minutes, or until the vegetables are tender.  Add remaining cup of water and beef bouillon cubes if desired; bring soup back to boil.  Add the acini di pepe pasta directly to the soup; simmer an additional 10 to 12 minutes.  Taste soup and add additional salt or pepper if desired.  Ladle soup into soup bowls and garnish with Parmesan cheese.  Serve with crusty Italian bread.