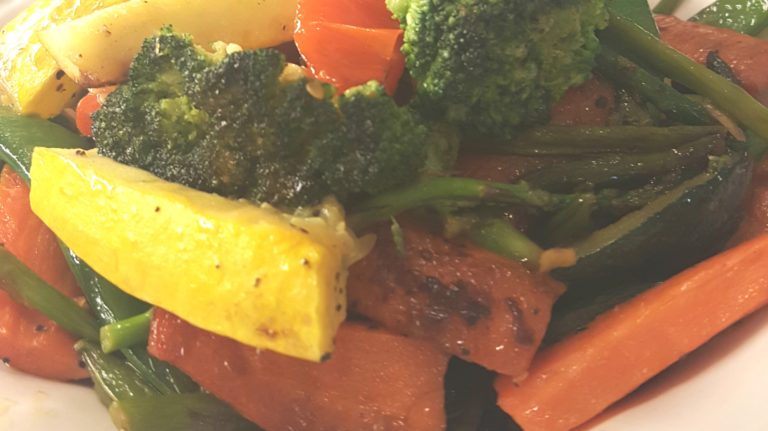 NOTE:  These buttered vegetables are so delicious, they can easily become addictive.  You will love this awesome side dish.
Ingredients:
1 stick butter
1 tablespoon olive oil
1 tablespoon freshly squeezed lemon juice
2 cloves minced garlic
Coarse sea salt
Red Pepper Flakes
1 medium zucchini, sliced in a 3-inch strips
1 yellow squash, sliced in 3-inch strips
1 (8-ounce) carton snow peas, ends removed
1 cup 3-inch long asparagus
2 large carrots, sliced in 2-inch thin strips
1 cup broccoli florets
Instructions:
Mix melted butter, olive oil, lemon juice, and garlic in a large shallow platter. Add the vegetables and lather with the dressing.  Sprinkle with salt, and red pepper flakes, as desired.
Place half of the buttered vegetables in a grill pan and place on grill. Stir about every 2 to 3 minutes, until the vegetables become lightly charred, and fork tender. Add the broccoli at the last to keep tender, but crisp tender.   Continue with the other half of vegetables.    Do not overcook, keep vegetables crisp tender.  Add additional salt and pepper to taste.  Serves 6.