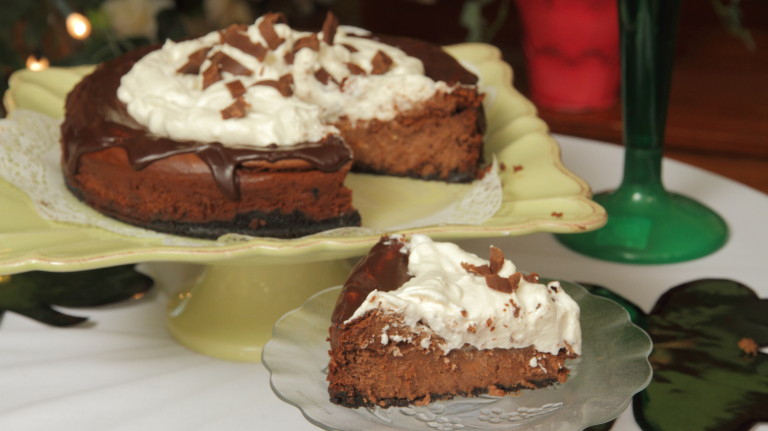 NOTE:  This chocolate cheesecake is everything you want in a chocolate delicacy.  It is rich, creamy, and delicious!
Ingredients:
1 ½ cups chocolate cookie crumbs
¼ cup sugar
1 teaspoons cocoa powder
¼ cup melted butter
3(8-ounce) packages cream cheese
1 ¼ cups sugar
½ cup sour cream
3 eggs
1(12-ounce) package Ghirardelli semi-sweet chocolate chips, melted
2 teaspoons vanilla
Chocolate Ganache
1 cup heavy whipping cream
1 (12-ounce) package Ghirardelli semi-sweet chocolate chips
Whipped Cream Topping
1 (8-ounce) carton heavy whipping cream
2 tablespoons powdered sugar
1 teaspoon vanilla
1 chocolate candy bar, room temperature
Instructions:
 Preheat oven to 350-degrees.  Combine cookie crumbs, sugar, cocoa powder and melted butter in a small bowl; mix together.  Place the crumb mixture into a 9-inch springform pan; evenly spread on the bottom and up the sides about 1-inch.  Place the pan in freezer for 8 to 10 minutes to set.
 Using an electric mixer, beat the cream cheese, sugar, and sour cream until smooth, about 3 minutes.  Add the eggs one at a time, beating after each addition.   Melt the chocolate chips over very low heat in small saucepan on stove; careful not to burn.  Stir in the vanilla.  Let the chocolate cool slightly and add to the cream cheese mixture.  Mix on medium speed until the chocolate is well combined and smooth
Pour the filling over the cookie crust and bake for 1 hour and 10 minutes, or until cheesecake is set.  Remove from oven and let cool for 1 hour.  Run knife around side of pan to loosen cake; remove outer rim.  Loosen bottom of pan with butter knife and place cheesecake on platter.  Prepare ganache and whipped topping.
Place heavy whipping cream in small saucepan and heat until very warm; do not bring to boil.  Place chocolate chips into a small bowl and pour the hot cream over the chips.  Let stand for about 2 minutes; stir until melted and smooth.  Pour chocolate ganache over top of cheesecake and spread over the side.
Beat the whipping cream and powdered sugar until foamy; add the vanilla and continue to beat until stiff peaks form.  Spread the whipped cream over the chocolate ganache.  Make curls from candy bar with a sharp knife or potato peeler.  Spread the chocolate curls over the whipped cream topping.  Place in refrigerator for several hours until set.  Serves 12.