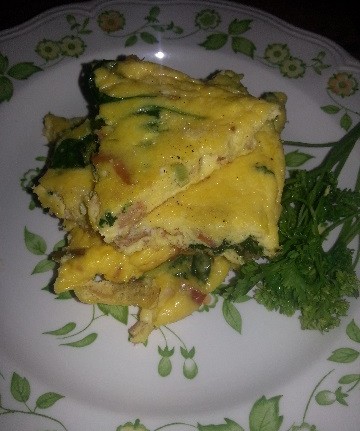 NOTE:  This Italian omelette is full of  flavor, featuring Prosciutto, which is an Italian ham.   You can change it up any way you which, by substituting Italian sausage for the prosciutto, and asparagus, potatoes, or sun-dried tomatoes  for the spinach.  You will love making these frittatas. 
Ingredients:
1 tablespoon olive oil
1 tablespoon butter
2 tablespoons green onions with tops included, chopped fine
3 strips prosciutto
1 cup fresh spinach
1/2 teaspoon coarse sea salt
1/4 teaspoon fresh ground black pepper
6 large eggs
2 tablespoons half-and-half
1/4 cup Parmesan cheese
Parmesan cheese
Parsley sprigs
Instructions:
Preheat oven to 350-degrees.  Put oil and butter in a 10-inch cast iron skillet, or any oven-proof skillet.  Saute onion, garlic, and prosciutto together about 5 minutes, until onion is translucent and prosciutto is crisp.  Add the spinach and cook 1 to 2 minutes, until the spinach is wilted.   Sprinkle with salt and pepper.
Beat the eggs with half-and-half until fluffy and fold in the cheese.  Pour the eggs over the spinach mixture and cook undisturbed about 2 minutes, until the eggs begin to set and bubble, but are still runny on top.  Put skillet in oven for 8 minutes.  Remove from oven and transfer frittata to a large round platter.  The frittata should slide out of pan easily.
Garnish with additional cheese and parsley.  Let the frittata set 1 to 2 minutes before slicing.  Serves 4 to 6.