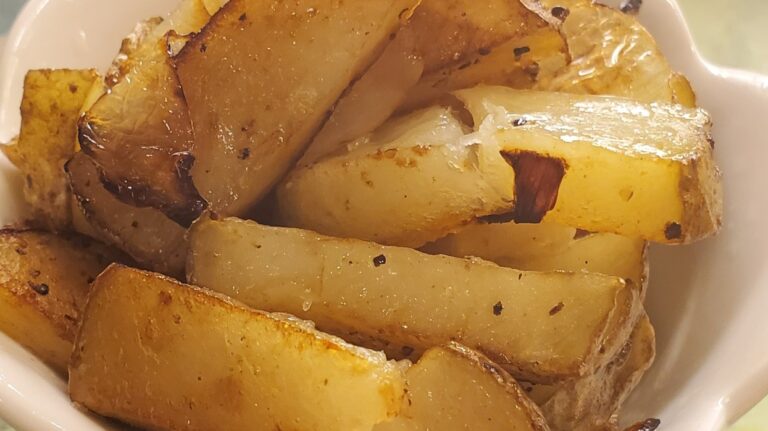 Note:  What can say "Country" better than a big skillet of Fried Potatoes & Onions? Add them to your breakfast, lunch, or dinner. Fried up crunchy yet tender, these are the best!
Ingredients:
½ cup bacon drippings or Canola oil
3 to 4 large red or brown potatoes, unpeeled.
1 medium onion
Salt and pepper
Instructions:
Wash potatoes and pat dry. Cut potatoes in half lengthwise and then in half again.  Slice into ¼-inch slices.  Cut onion in half and into slices.
Pour bacon drippings into a large cast-iron skillet and let the oil get hot but not burning. Add the potatoes and onions and let them get crusty, about 1 to 2 minutes.  Lower the heat to medium and continue cooking.   Fry potatoes and onions over medium heat 10 to 12 minutes, stirring often.  Sprinkle with salt and pepper to taste while potatoes are frying.  After potatoes are browned, lower heat and cover.  Let the potatoes steam-tender for about 5 minutes.
When potatoes are crusty brown and soft, remove to a large platter and serve warm. Serves 6 to 8.