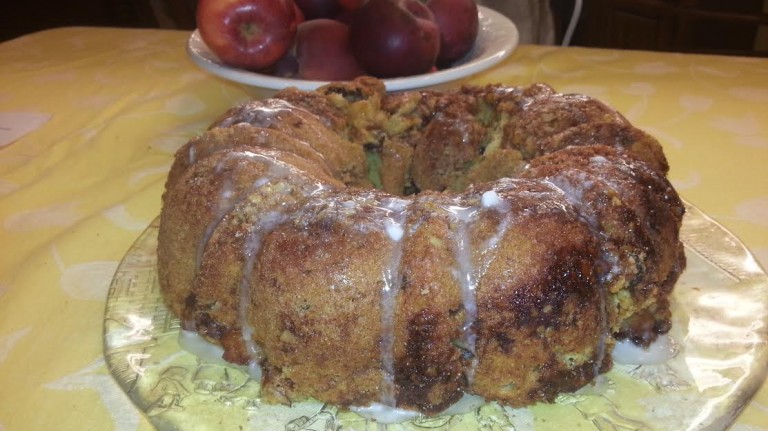 NOTE:  This cake is full of the October flavor with lots of cinnamon, fresh apples, and a crunch of walnuts and raisins.  You will absolutely love this cake.
Ingredients:
1 (10-inch) metal Bundt pan
Cooking spray
3 cups Granny Smith apples, peeled and sliced thin
½ cup water
1 tablespoon lemon juice
2 teaspoons cinnamon
3 cups all-purpose flour
1 teaspoon baking powder
1 teaspoon baking soda
½ teaspoon salt
2 cups sugar
4 eggs
½ cup mild olive oil
2 teaspoons vanilla
½ cup sour cream
½ cup dark raisins
Streusel Filling
2/3 cup sugar
5 teaspoons cinnamon
¾ cup walnuts, coarsely chopped and lightly toasted
Almond Glaze
1 cup powdered sugar
3 tablespoons milk
½ teaspoon almond extract
 
Instructions:
 Preheat oven to 325-degrees.  Spray Bundt pan with cooking spray; set aside. Place sliced apples in water with lemon juice while preparing cake to preserve color.  In medium bowl, combine flour, baking powder, baking soda, and salt; set aside
Next, place sugar, eggs, olive oil and vanilla in mixing bowl of an electric mixer, and beat until yellow and frothy.  Add the flour mixture to the egg mixture alternately with the sour cream; beat together until smooth.  Remove mixing bowl to counter and fold in the raisins.   Drain the apples and add the 2 teaspoons cinnamon, coating the apples well.  Fold the apples into the cake batter; set aside.
Make the streusel by placing the sugar, cinnamon and walnuts in a small bowl.   Sprinkle 1/3 of the streusel on bottom of Bunt pan. Pour a third of the batter over the streusel.  Repeat with another 1/3 of the streusel over the middle batter, and continue with batter and streusel, ending with last of streusel over the top.   Using a butter knife, swirl the streusel into the batter.    Place pan in oven and bake for 1 hour and 15 minutes, or until took pick comes out dry.
Remove cake and let stand about 10 minutes.  Using a butter knife, loosen cake all around pan and also around the middle stem.  Remove cake onto platter.
Make the almond glaze by combining the powdered sugar, milk and almond extract.  Stir until smooth and when cake is cooled to slightly warm, drizzle the glaze over the top and rim of cake.  Serve warm.  Serves 16