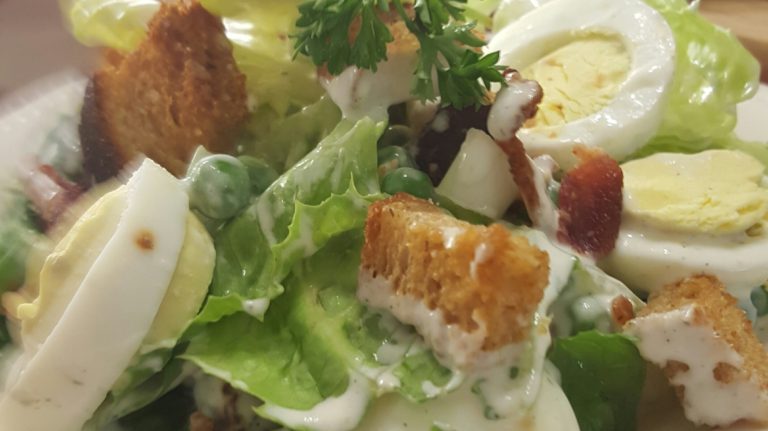 NOTE:This is the salad that has lasted through the years and always gives the salad  lover a wonderful reward.
Ingredients:
1 large bunch Romain lettuce
½ cup green onions, chopped with tops included
1 cup frozen green peas
6 strips bacon
4 hard-boiled eggs
Dressing
1 packet Hidden Valley Buttermilk dressing mix
1 cup mayonnaise
1 cup buttermilk
Flavored croutons, optional
Instructions:
Remove outer leaves of lettuce. Wash each leaf, drain and pat dry.  Cut leaves in fourths.  Arrange cut lettuce in bottom of a 13 by 9-inch glass pan.
Sprinkle green onions over lettuce. Next, blanch peas in hot lightly salted water for 3 minutes:  drain well and sprinkle over onions.
Fry bacon in heavy skillet until crisp. Drain on paper towel; crumble, and scatter over layer of peas.  Slice peeled hard-boiled eggs and lay over bacon.
Make dressing according to packet directions, using packet mix, mayonnaise, and buttermilk. Mix in jar and shake vigorously to combine.  Spread dressing completely over top of salad.  Garnish with croutons if desired.  Serves 6 to 8.