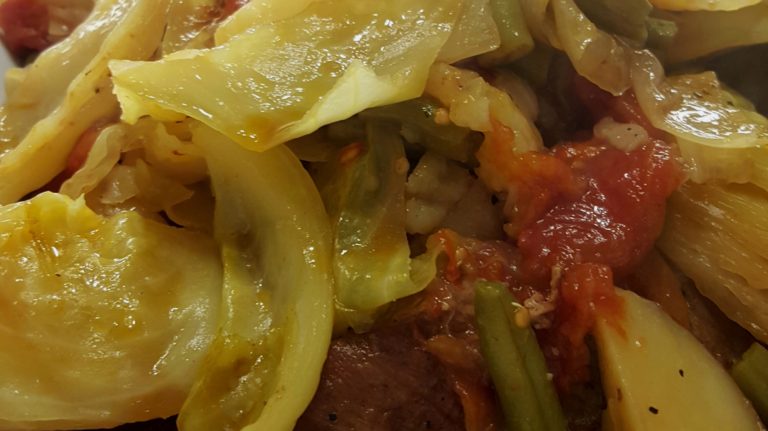 NOTE:  This dish was created to celebrate the hard work of farming and the harvesting of wonderful produce for us to enjoy. This dish has it all.  The meaty ribs surrounded with homegrown cabbage and vegetables.  Served with a slice of cornbread, or your favorite hard rolls, and your family will jump for joy.
Ingredients:
6 meaty fresh country-style ribs
Lawry's coarse garlic salt with parsley added
¼ cup olive oil
1 large onion, cut into small quarters
3 medium potatoes, unpeeled, and cut into quarters
Salt and pepper
4 cups Kitchen Basics low-sodium beef stock
1 tablespoon beef stock,
 Or 2 to 3 beef bouillon cubs
1 quart jar fresh green beans, drained
   or ½ pound fresh green beans, ends trimmed and cut into thirds
1 quart jar fresh whole tomatoes, not drained
  or 1 (28-ounce) can diced tomatoes
1 large head cabbage, outer leaves removed, and chopped in chunks
Salt and pepper to taste
Instructions:
Rinse meat under cool water; pat dry.  Liberally sprinkle ribs with garlic salt.  Place the olive oil in bottom of a large skillet and brown meat on all sides, about 8 to 10 minutes.  Add onions and potatoes and stir-fry together for another 6 to 8 minutes.  Sprinkle vegetables with salt and pepper.
Transfer meat and vegetables to a large 8-quarat heavy pot. Add beef broth, and stir in beef base or bouillon cubes.  Bring to boil.
Add green beans and tomatoes.   Add the cabbage on top of vegetables to the top of the pot.  Add water to barely cover cabbage.  Cover and cook over medium heat for about 1 ½ hours, or until meat is very tender and cabbage is limp.
Add salt and pepper as desired. Spoon into large soup bowls and serve with crusty bread for dipping.  Serves 8 to 10.