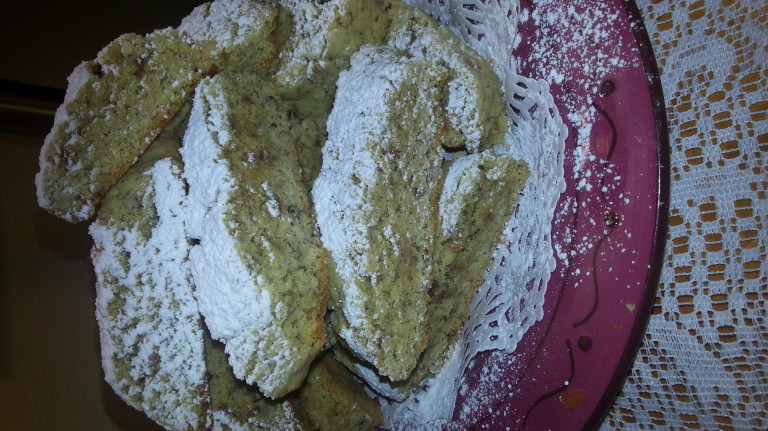 NOTE:  These biscotti are so delicious, your family will take them right off the cookie sheet as they pop out of the oven.  I like them this way, and allow them to harden on their own, but if you want a true biscotti, then toast them on each side in the oven after they are sliced.
Ingredients:
1 ¾ cups all-purpose flour
½ cup yellow cornmeal
1 ¼ teaspoons baking powder
¼ teaspoon salt
¾ cup sugar
1 cup pecans, coarsely chopped
1 tablespoon sugar
2 large eggs
½ cup olive oil
1 teaspoon almond extract
Powdered sugar
Instructions:
Preheat oven to 350-degrees.   In large bowl, combine flour, cornmeal, baking powder, salt, and sugar; mix together well and set aside.
Place pecans and sugar in small skillet, and over medium heat, toast and candy the pecans.  Stir constantly about 2 minutes until pecans are toasted and coated with sugar.  Add the pecans to the flour mixture and stir in well.
Beat the eggs until frothy.   Add the eggs, olive oil, and almond extract to the flour mixture.    Mix together with fork and then with clean hands and form the dough into three logs, 7-inchs by 2-inchs.  Bake on a large cookie sheet covered with parchment paper or on a lightly greased baking sheet.  Bake for 25 minutes.  Remove from oven and let logs cool and rest on the cookie sheet for 10 minutes.  Cut the logs diagonally into ¾-inch slices with a serrated knife.  If toasting the biscotti, return slices to the baking sheet and continue to bake for 5 minutes on each side, turning once.   Remove and sprinkle with powdered sugar.  Makes 24 biscotti