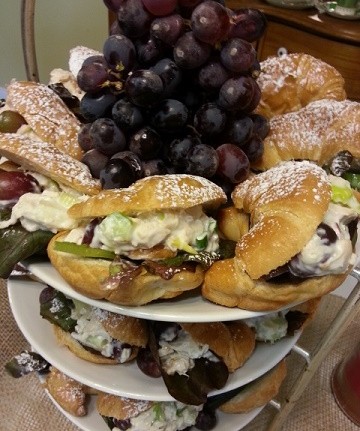 NOTE:  These beautiful little croissants are filled with a crunchy chicken salad loaded with purple grapes and sugared pecans.   They are perfect for your next bridal shower.
Ingredients:
2 (12.5-ounces) cans chicken breasts, drained
1/2 cup celery, chopped small
2 to 3 tablespoons onion, chopped small
1 cup purple seedless grapes, whole
1 cup toasted sugared pecans
1 cup mayonnaise
1/4 cup sour cream
1 tablespoon lemon juice
1 teaspoon sugar
red curly lettuce leaves
12 large  or 15 small croissants
powdered sugar
Instructions:
 In large bowl combine chicken, celery, onion, and grapes.  Toast pecans in dry skillet adding sugar and stir constantly for 2 to 3 minutes, or until toasted and sugared.  Add pecans to the chicken mixture, and stir well to combine.
 Make dressing by combining mayonnaise, sour cream, lemon juice, and sugar.  Add to chicken mixture.  Open each croissant and place 1 lettuce leaf with curly edge protruding.  Place about 1/3 cup chicken salad on each leaf.  Close croissant and arrange on platter.  Place grape clusters in and around croissants.  Dust tops of croissants with powdered sugar.  Makes about 1 dozen.