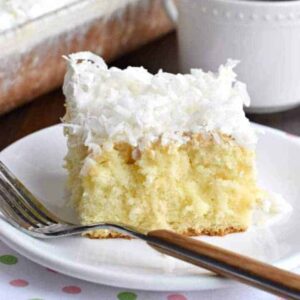 NOTE:   This cake is very moist and luscious and has the similarity of pudding cake. Topped with whipped topping and soft grated coconut, the flavor of cream and coconut is enjoyed from top to bottom.
Ingredients:
Butter
Flour
1 Duncan Hines Moist Deluxe Classic White cake mix.
3 large eggs
1 cup water
½ cup mild olive oil
1 teaspoon coconut extract
1 can of Coco Lopez Cream of coconut
1 can sweetened condensed milk
Instructions:
Preheat oven to 350-degrees. Butter a 13- inch by 9-inch cake pan and dust with flour.
Combine cake mix, eggs, water, oil, and extract. Mix cake with whisk until blended. Pour batter into cake pan and spread out evenly. Bake for 28 to 30 minutes, or until cake bounces back when touched.
In a medium bowl, combine the cream of coconut and the condensed milk; stir together until blended. While cake is still warm, using a fork, poke holes all over the cake. Pour the coconut/milk mixture over top of cake, letting it seep down through the holes. Let stand for a few minutes until cooled.
Spread whipped topping over top of cake and sprinkle with soft coconut. Keep cake refrigerated until ready to serve. Makes 12 servings.