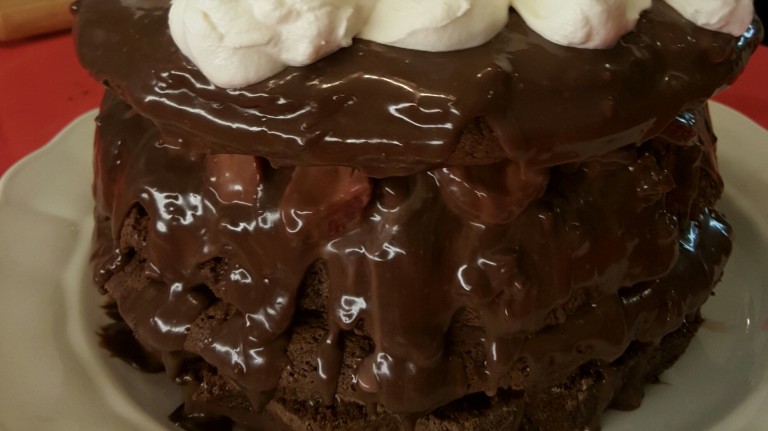 NOTE:  This cake is a 4-layer chocolate delight, filled with strawberries and sweet cream.   The batter makes 3 thick layers, so there will be an extra layer for you to frost and serve, or save for a later time.
Ingredients:
Butter
Flour
1 ½ cups butter
3 cups sugar
4 eggs
5 (1-ounce) squares unsweetened chocolate
1 cup boiling water
2 teaspoons vanilla
3 ¾ cups all-purpose flour
2 teaspoons baking soda
1 cup buttermilk
Chocolate Ganache
2 (12-ounce) bags semi-sweet chocolate chips
2 cups heavy cream
Sweetened Strawberries
4 cups strawberries, sliced medium
1/3 cup sugar
Sweetened Whipped Cream
2 cups heavy whipping cream
4 tablespoons powdered sugar
1/2 teaspoon vanilla
Instructions:
 Preheat oven to 350-degrees.  Butter and lightly flour three 9-inch round cake pans.  In large mixing bowl, cream butter and sugar with electric mixer.  Add the eggs one at a time and beat after each addition.
 In small saucepan, gently melt the chocolate over low heat, being careful not to burn.  When chocolate is melted, slowly add 1 cup boiling water and vanilla; stir until smooth.  Remove pan from stove and let cool slightly.  Add the chocolate to the sugar cream mixture and mix on low speed until combined and smooth.
Mix the flour and baking soda together and add the flour alternately with the buttermilk, beginning and ending with the flour.  Pour the batter into the prepared pans and bake 35 to 40 minutes or until a tooth pick inserted come out dry.  Spray wire cooling racks with cooking spray to avoid cakes from sticking.  Remove cakes from oven and let cool in pans for about 10 minutes, then turn out onto wire racks and completely cool before frosting.
Make the chocolate ganache by placing the chocolate chips into a heat proof bowl.  Pour the whipping cream into a small saucepan, and gently heat on low, being careful not to bring the cream to a boil.  When cream has been heated through, pour the cream over the chocolate.  Let the cream sit for about 15 seconds before stirring.  Stir the mixture slowly until the chocolate is smooth and shiny.  Makes 2 cups.
Wash and rinse strawberries; remove stems.  Slice strawberries and place into bowl with sugar.  Let the strawberries set for about 30 minutes to soften and become sweet.  Drain off the liquid and use the strawberries to spread between cake layers.
Make the sweetened whipped cream by placing the cream in a chilled bowl.  Begin mixing on medium speed, adding the sugar and vanilla a little at a time.  Beat the cream until stiff peaks are formed.  Makes 2 cups.
To Assemble Cake:  Using a serrated knife, cut two layers in half to make 4 layers.  Place first layer on cake plate and pour about 1/3 of the chocolate ganache over the layer.  Spread the chocolate evenly over the layer, allowing a little to spill over the side.  Next, spread about 1/3 of the strawberries over the chocolate.  Next, spread some of the whipped cream over the strawberries.  Continue to dress the layers in the same manor, ending with, rest of ganache, whipped cream and strawberries.  Makes 12 Servings.