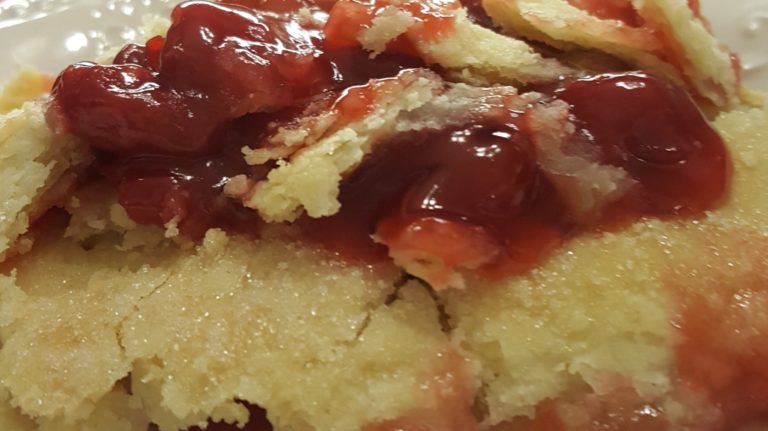 NOTE:  This Cherry cobbler is just a little bit of heaven.  It is so delicate and delicious, with a wonderful flaky sugar crust.  Your family with adore you for baking this wonderful treat.
Ingredients:
1 package Betty Crocker Pie Crus
1 (13-inch by 9-inch) baking pan
3 (14-5 ounce) cans cherry pie filling
3/4 cup sugar
1 ½ teaspoons almond extract
2 tablespoons butter
Instructions:
Preheat oven to 400-degrees. Prepare the pie crust mix as directed on package.  Use the entire package.  Form the dough into a ball and place on floured counter.  Roll the dough, flipping often with dusted flour, to a rectangle the size of the cobbler pan.  Set aside.
In a large bowl, place the cherry pie filling, sugar, and almond extract. Stir together until well combined.  Place filling in the bottom of the cobbler pan.  Chop the butter into pats, and lay over the cherries.
Carefully fold the pie crust in half, and lay over the cherries. Unfold the crust to cover the cherries; tuck in the sides.  Pierce the top with fork tines, and sprinkle top with sugar.  Bake the cobbler for 45 minutes, or until the crust is golden brown and the cherries are bubbling.  Remove from oven when baked, and let cool.  Serve warm with Vanilla Bean ice cream.  Serves 12