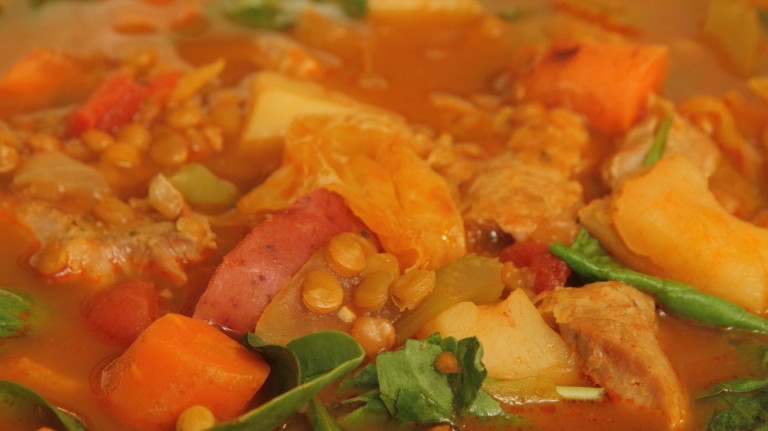 NOTE:  Italians love lentils, and this soup is a hearty cabbage vegetable soup that includes lentils.  It is great with or without meat.  Easy to make and easy to keep up to 4 days in the refrigerator. 
Ingredients:
1 to 2 lean pork chops with a bone, optional
Lawry's coarse garlic salt with parsley added
2 to 3 tablespoons olive oil
1 large onion, quartered small
2 cloves garlic, chopped small
1 medium potato, quartered small
3 stalks celery, chopped medium
3 carrots, cleaned and chopped small
1 teaspoon salt
½ teaspoon pepper
1 cup to 2 cups water
1(15-ounce) can diced tomatoes
1 (29-ounce) can tomato sauce
1 tablespoons beef base,
    Or 2 to 3 beef bouillon cubes
1 (15-ounce) can green beans, drained
1 large head cabbage, cored and chopped in chunks
1 quart container Kitchen Basics Beef Stock
1 cup dried lentils
4 cups baby spinach, washed, and stems removed, optional
Instructions:
 Trim all fat from pork chops.  Sprinkle liberally with the garlic salt. Pour olive oil into a skillet and fry the pork chops until golden on both sides.  Remove chops and cut into 1-inch pieces; place pork into an eight-quart heavy pot.   Keep bones in soup for flavor, and remove when soup is completed.  (If only using vegetables, begin with the vegetables and 2 tablespoons olive oil.)
 Add the onion and garlic and another tablespoon olive oil.   Sauté the onion and garlic for 2 to 3 minutes.  Add the potato, celery, and carrots and sprinkle the vegetables with salt and pepper.  Let the vegetables cook with the meat about 6 to 8 minutes.  Add 1 cup water or more to loosen vegetables and meat.
Add the tomatoes, tomato sauce and beef base.  Next, add the green beans, cabbage, and beef stock.  Stir the soup well.  Now add the lentils, stir again, and let the soup cook on medium-low heat for 1 hour or until cabbage and lentils are tender.
Before serving, add the spinach, and let the soup cook for about another 6 to 8 minutes to wilt the spinach.   Ladle the soup into soup bowls, and serve hot with crusty hot bread.   Makes 12 servings.