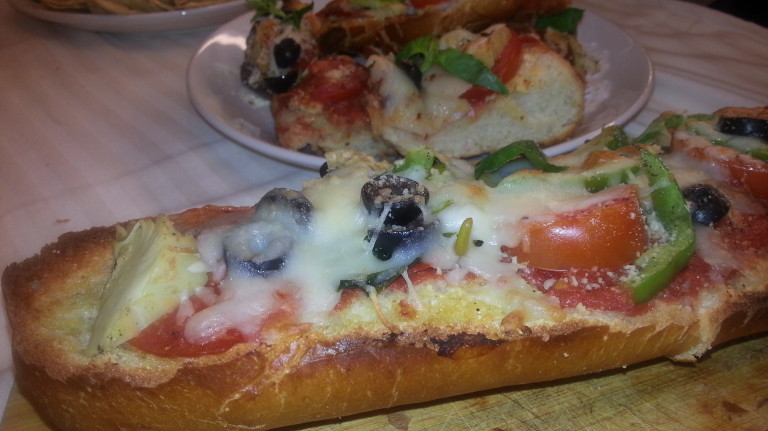 Note:  This bruschetta can be sliced in 2-inch slices for a great appetizer.  They are so good, your taste buds will jump up and down for joy.  Use any combination of your favorite pizza toppings.
Ingredients:
1 loaf French bread
½ to 2/3 cup extra virgin olive oil
4 to 6 cloves garlic, chopped fine
1/2 cup grated Parmesan cheese
Ground black pepper
Kosher salt
1 cup marinara sauce
1 cup pepperoni slices
½ cup black olives
½ cup green peppers, sliced
½ cup marinated artichokes
½ cup Roma tomatoes, sliced
Lawry's coarse garlic salt with parsley added
1 cup Mozzarella cheese, shredded
Crushed red pepper flakes
Fresh basil leaves, chopped, optional
Instructions: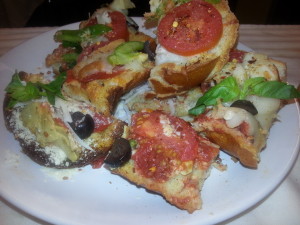 Preheat oven to 400-degrees.  Place bread on cutting board and with serrated knife, slice the bread horizontally in half.  Divide the olive oil between the two halves by brushing olive oil onto the bread. Spread the finely chopped garlic over the two bread halves, dividing evenly.  Sprinkle the cheese over the two halves, dividing evenly.  Sprinkle ground black pepper and salt over the cheese.  Place halves on grate in oven and bake for 6 minutes, or until browned and crusted.
 Remove halves and place back on cutting board.  Spread marinara sauce over each half, as much as desired.  Begin placing the remainder ingredients over the two halves of bread, as much as desired.  Sprinkle top lightly with garlic salt.
Top the bruschetta with shredded cheese.  Sprinkle with desired amount crushed red pepper flakes.  Place back in oven for 5 to 6 minutes, or until cheese slightly melts on top.  Remove bruschetta and place back on cutting board. Sprinkle top with fresh basil leaves if desired.  Let cool about 5 minutes.  Slice bruschetta to desired lengths and place on tray.  Makes about 12 to 16 servings.