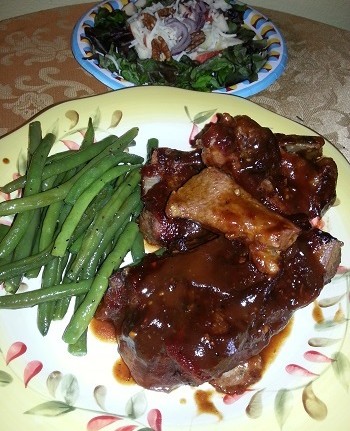 NOTE:  These ribs are so delicious and taste like they were grilled for hours.  They are fork tender and melt in your mouth.
Ingredients:
4 meaty country style ribs
Lawry's coarse garlic salt with parsley added
3 tablespoons olive oil
2 cups Kitchen Basics beef stock
Smokey mesquite seasoning
2 cups favorite barbecue sauce
Instructions:
Preheat oven to 350-degrees.  Trim ribs of fat, and sprinkle the garlic salt on both sides.   Place ribs in a large 10-inch iron skillet with olive oil and sauté on each side 5 minutes, or until golden brown.  Leave the ribs in the same skillet, or transfer to a large Dutch oven.  Pour beef stock over ribs and place lid on ribs.  Bring beef stock to a gentle boil and let the ribs braise for 45 minutes with lid on; do not remove lid during the braising process.
Remove lid and pour off half of the stock, unless stock has cooked down to half, then leave in pan.  Keep the ribs and remainder of the stock in the same skillet or Dutch oven.   Sprinkle ribs lightly with the mesquite seasoning.   Pour barbecue sauce over ribs and place the pan in the oven uncovered.  Let the ribs bake for another 25 to 30 minutes.  Remove pan and serve.   Ribs should be fork tender.   Serves 4.