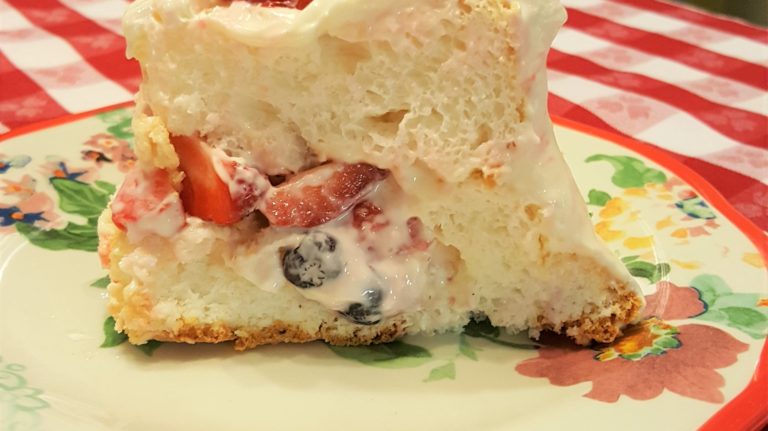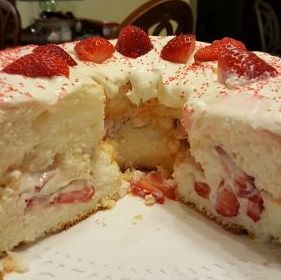 NOTE:  This cake is a pure delight!  Most everyone loves Angel Food Cake, and to be filled with fresh berries, is even more wonderful.  The cream cheese frosting only adds to all the goodness.
Ingredients:
1 (16-ounce) box Betty Crocker angel Food cake mix.
1 cup sliced strawberries
½ cup blueberries
½ cup raspberries, optional
2 teaspoons sugar
½ teaspoon vanilla
1 (8-ounce) carton cool whip
Cream Cheese Frosting
2 (8-ounce) bars cream cheese
1 stick butter
4 cups powdered sugar
1 teaspoon almond extract
Strawberries, halved
Pink or Red Sprinkles, optional
Instructions:
Pre-heat oven to 350-degrees. Place berries in a medium bowl; add the sugar and vanilla and place in refrigerator to sweeten.
Prepare the cake per package directions. Remove from oven when top of cake is dark golden brown and cracks feel very dry and not sticky.  Turn pan upside down onto a glass bottle until completely cool.  Run knife around edges; remove from pan, and place on cake platter.
Prepare frosting by placing cream cheese and butter into a large bowl. With hand mixer, beat the cheese and butter until smooth.  Add the powdered sugar and almond extract.
Assemble the Cake: With a serrated-edge knife, cut off a 1-inch slice off the top of the cake all around; set aside.  To make a tunnel, carefully hollow out a portion of the lower half of the cake.  Tear the removed cake into small pieces, and place in a medium size bowl.  Place the sweetened berries in with cake pieces, and add 1 to 2 cups cool whip.  Fold the cool whip into the berry mixture, so that the berries hold together.  Place the berries and cake back into tunnel and gently pack down.
Replace the top portion of the cake back on the lower half and frost the entire cake with the cream cheese frosting. Garnish the top with strawberries.  Sprinkle with sprinkles, if desired.  Serves 12 to 16.