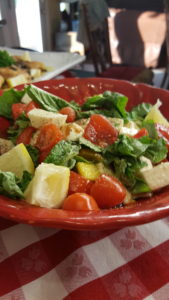 NOTE:  This salad comes from the Isle of Capri, and could be one of the most popular of Italian salads.  If possible, use only vine-ripened tomatoes and fresh grown basil for the best flavor.
Ingredients:
½ pound buffalo mozzarella cheese, drained and cubed small
2 large fresh vine-ripened tomatoes, small quartered
Or 2 cups cherry tomatoes, halved
2 cups fresh basil leaves, torn in pieces
1/3 cup extra virgin olive oil
2 tablespoons freshly squeezed lemon juice
1 teaspoon coarse sea salt
¼ teaspoon freshly ground black pepper
Instructions:
Place the mozzarella, tomatoes, and basil leaves in a medium bowl.  Whisk together the olive oil, lemon juice, and salt and pepper.  Pour dressing over salad and toss.  Serve with toasted Italian bread.  Serves 6.